Ties that Bind (Hot in Hollywood #1) by Katee Robert: Katee Robert knocked this amazing novella out of the park with a hot and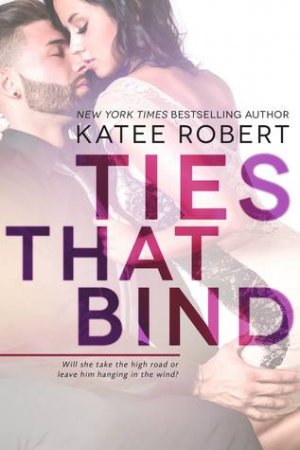 sexy story that will leave the reader begging for more more more! This amazing second chance story is about Cora and Jack.
Cora Landers as America's Sweeteart. An innocent that was wholesome and pure, until a sex tape was leaked of Cora on her eighteenth birthday, tanking her career and sending her life into a different path. Now she is the divorce attorney to the stars, and the one person she never expected to see at her door asking for help is the one person that also stars in her dreams, none other than Jack McArthur, Hollywood director and sex tape co-star.
Jack McArthur never thought that he would ever see Cora again, but after a marriage in Vegas that he has no memory of, and a wife he cannot find so that he can get the marriage annulled, he knows that he need the best, and Cora is it. The instant sparks of attraction are still there, and Jack will do everything in his power to have her in his bed and in his life again.
But as Jack and Cora pick up where they left off so long ago, Cora knows that this time is fleeting. When the vultures in the tabloids pick up on the renewed romance, Cora is drug through the mud again. Jack will have to prove to Cora and to himself that he is the one that can protect Cora this time around. He will need to step up, before Cora slips through his fingers and out of his life for good.
I loved the connection between Cora and Jack. There were true feelings there, and when Cora opened up to Jack about what happened all those years ago, and why she did what she did, it took strength and trust to open up to Jack and show him the real Cora. The way that Jack was willing to stand up and fight for Cora was heartwarming and amazing. I was cheering for these to be find a perfect and forever HEA!

Book Info:

Publication: Published September 19th 2017 | Katee Robert | Hot in Hollywood #1
Once upon a time, Cora Landers was America's Sweetheart and destined to be the Next Big Thing in Hollywood—but that was before her sex tape ruined her image and eliminated her contracts. These days, instead of being an A-lister, she's divorce attorney to the A-listers. So when her ex—and fellow sex tape star—Jack shows up, needing her expertise, she wants nothing to do with it.
Jack McArthur might have costarred in that sex tape, but he didn't share Cora's fate—instead of tanking his career, the tape skyrocketed it. Now, as one of Hollywood's most buzzed about new directors, Jack has everything to lose—especially when he wakes up after a friend's bachelor party gone wrong to find that he's apparently married a woman he's never met before…and now can't find. Desperate, he goes to the only person who he knows can help—Cora.
Cora reluctantly agrees to help Jack—both because he's offering an absurd amount of money and because she loves seeing him at a disadvantage for once. Neither of them anticipate the very real problem of their being unable to keep their hands off each other—or that Jack's accidental marriage might be anything but accidental. With both her heart and career on the line—again—Cora has to decide if she's going to take the high road or leave Jack hanging in the wind the same way he left her twelve years ago.