In To Wear His Ring Again by Chantelle Shaw, fate brings estranged couple Isobel Blake and Marchese Constantin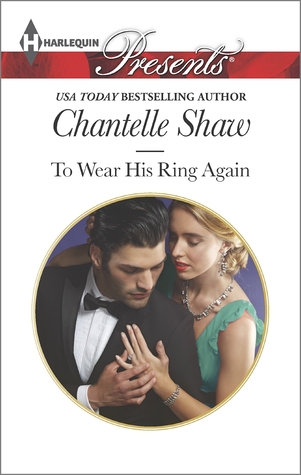 de Severino together once again.Their marriage was quick and their marriage soon crumbled after the loss of their child. Isobel wants to start afresh and will use her newfound confidence to confront her powerful husband and end their marriage as equals. But when she sees Constantin again, the temptation to wear his ring once more becomes overwhelming. Now, as long-dormant secrets are uncovered, Isobel must decide if Constantin is still hers to have and to hold
To Wear His Ring Again by Chantelle Shaw was a second chance romance and had some very well written situations.
Isobel is a musician who needs to break free from her past and therefore decides to finally return to her estranged husband and ask for a divorce. I liked her courage and strength because it is not always easy to face your past by your own choice. Constantin is a cynical hero who is still very much attracted to Isobel. He had a good reason for maintaining his distance from Isobel at the start of their marriage and despite his ice cold facade, he was a very different person inside. I loved how he stayed celibate during their estrangement.
The romance was good because the couple shared an amazing chemistry and worked really well together.The story was a little slow paced and some of the dialogues were unnecessary at times as they did nothing to move the story forward.
Overall, To Wear His Ring Again by Chantelle Shaw is a well written second chance romance and would be liked by all her fans. This might not be her best work but I loved the main couple and it was well worth my time.

Book Info:

Publication: January 20th 2015 by Harlequin Presents Series #3309
For better or for worse?
Desertion. The word sticks in Isobel Blake's throat. How dare Marchese Constantin de Severino accuse her of abandonment? Their marriage might have been hasty, but the loss of their child nearly destroyed her and Constantin was nowhere to be found.
Having rebuilt her life, Isobel will use her newfound confidence to confront her powerful husband and end their marriage as equals. But when she sees Constantin again, the temptation to wear his ring once more becomes overwhelming.
Now, as long-dormant secrets are uncovered, Isobel must decide if Constantin is still hers to have and to hold