In Tommaso (Immortal Matchmakers, Inc. #2) by Mimi Jean Pamfiloff, Demigod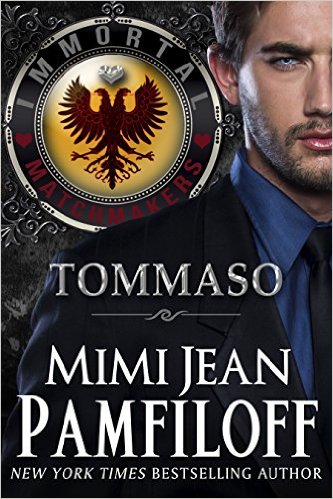 Tommaso Fierro has a tangled, complicated past filled with horrible events he wishes he could put out of his mind. But the loss he's dealt with has left him wanting to finally find peace in his life. Now the Universe has turned everything around, threatening to turn Tommaso into an evil killer. His answer is to find the woman who will become his mate. But once he meets her, the trouble really begins.
'If Tommaso was one thing in this world, it was manly. Okay, and chivalrous. And, while he was on the subject, loyal, too. His only major flaw was being unable to let go of the past.'
Golf instructor Charlotte has spent years of her life fearing things that go bump in the night after a horrible event left her reeling. Never sure if her dreams are something she needs to take seriously, she barricades herself in her home nightly. Then Tommaso enters her life and infiltrates her home with his sexy, suave attitude. Charlotte doesn't want to admit she's falling for him, little by little, because that means telling him the truth about her past. But she gets the feeling he's not been completely upfront about himself, either.
"Why do I have the feeling that you're not at all who you seem?"
"Because I'm not."
I waited for more.
He shook his head disapprovingly. "You ask me to tell you everything, my dear Charlotte, yet you haven't exactly been forthcoming."
I don't even know how to begin to describe the funny, ridiculously sexy and zany story that is Tommaso. Let's just say that it's a paranormal romance/fantasy novel that had me giggling until I snorted, shouting at the characters to smarten up, and ultimately falling in love with each of the gods, demigods and humans.
If you've never read anything by Mimi Jean Pamfiloff, then you're in for a treat here. Especially if you love laugh-out-loud tales that have tons of depth to the plot and engaging characters to latch on to. I'm still fairly new to the recurring cast of unique immortals and their mates who frequent these novels but I am becoming a huge fan. There is just something so likable about them all. (Yes, even the crazier ones like Cimil, The Goddess of the Underworld, and her invisible unicorn Minky.) And Pamfiloff's writing style, with it's fun modern slang and witty comebacks, makes her books absolute page-turners that you don't want to put down.
Tommaso was a great hero in my humble opinion. He had been through so much in his lifetime, losing so many loved ones. It was tough to watch a good guy start to become evil through no fault of his own, but surprisingly some of his antics were actually comical during that process. And I loved Tommaso's attraction to Charlotte. He was a bit more receptive to a relationship than she was which is unusual for a romance but it worked well for their situation. He had just the right combination of ego and humility for him to trust in the outcome and let her take the lead as she her found way.
I loved that Pamfiloff wrote this in multiple POVs so we got to see how the burgeoning relationship looked from both Tommaso and Charlotte's perspective. It also came in handy because I honestly couldn't figure out why Charlotte was so closed off to Tommaso until we got her full background. Then it made sense. I thought she did a pretty good job of trying to let him into her life up until the very ending. Then she was one of the characters I was shouting at to smarten up. (LOL) But things did end very well for Tommaso and Charlotte, giving them at least a HFN.
Whether you're reading this as a standalone or as part of the wacky world that Mimi Jean Pamfiloff has created for us, I think readers will have a blast with Tommaso and Charlotte's exciting journey.
Book Info:

Published May 24th 2016 | Mimi Boutique – P&S, Inc. | Immortal Matchmakers, Inc. #2
From New York Times Bestseller Mimi Jean Pamfiloff…
TOMMASO, Book #2, The Immortal Matchmakers, Inc. Series (Standalone)
SOMETIMES, HOT MEN CAN BE REAL MONSTERS…
Tommaso Fierro is used to the finer things in life–nice suits, nice car, nice house. Okay, his past isn't so nice, but that's in the past. Or at least it was until he blacked out after meeting the woman of his dreams.
Annnd possibly capturing her.
Annnd possibly terrorizing her before she got away.
Annnd discovering that he's turning into a horrible creature he loathes with all his heart.
Luckily, there's a cure. Unluckily, it will require him to track this woman down and convince her to give him a second chance. But if he finds her, will she ever believe that he's really not a monster?