Trapped with the Maverick Millionaire by Joss Wood: In this first story in the 'From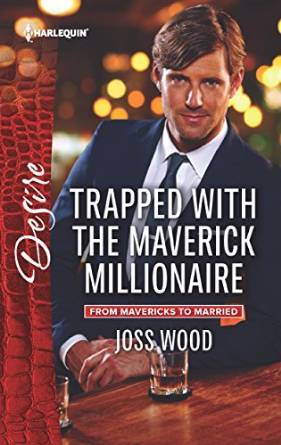 Mavericks to Married' series, Mac and Rory have a history, but not one of being lovers. Instead, Mac used to date Rory's sister and on the night he famously dumped her via an 'oops, did the microphone pick that up?' conversation with a few of his teammates, it spelled the end of any friendship that might have gone further under different circumstances. Now it's ten years later, and Mac is nursing a hockey injury that may prove to be his downfall, unless he can get some serious treatment. Enter Rory, a professional physiotherapist. Though she thought her attraction to her older sister's ex-boyfriend would be long gone by now, that isn't the case and in close proximity, Mac makes it clear that he wouldn't be averse to exploring a relationship with her. On a stormy island retreat for his recovery, they give into that passion for each other. But when they're back home once again, can they make the fantasy into reality?
This is my first story by Joss Wood and definitely won't be my last. The story starts out making it clear that Mac and Rory's sister were never suited to one another, though her finding that out via a media frenzy would make anyone look bad. Mac certainly didn't do it to hurt her, and when he comes to search her out, he finds Rory instead. They've always had an attraction to each other that they denied as he was involved with her sister, but now that he's free, it could be a possibility. When they're discovered in an almost kiss by her sister, it leads to a whole other mess as Rory, her sister and Mac all deal with the fallout. Regrets on Rory and Mac's side are huge, and for some time Rory and her sister are estranged. Fortunately as time goes by, things find their way to a new normal. Rory's sister meets someone else and gets married, Mac continues playing hockey and being a big-time player (of the female companion variety), and Rory devotes herself to her studies and her eventual job as a physiotherapist. When they meet up again 10 years later, Rory has her work cut out for her as Mac is no longer the young twenty-something hockey player who can easily recover from injury. What he has is career threatening, if he doesn't follow his doctor's advice, and that of his new physio, Rory.
I liked both the characters. Even though the circumstances at the beginning might make it look like Rory and Mac are dubious in character, it's really not the case and they never crossed any lines. They've grown up too, and though the attraction they had before was perhaps somewhat juvenile, it's definitely not that way now. They share some sexy scenes together. Rory worries about how her sister will feel when she finds out, and tries to think of a way to keep things private. Being known as the sister of the woman from the infamous breakup will mean paparazzi attention as Mac is quite a well known and highly watched player. Plus, if it gets out that his injury is more serious, it could spell trouble for the team and his two friends ( former Maverick hockey players, and who will be the focus of the next books in the series). Rory must decide if a relationship with Mac will be worth those risks. Mac is a bit stubborn, and definitely not used to someone giving him advice on what he can and can't do. He has trouble taking Rory's advice and she gets naturally frustrated when he pushes himself beyond the limits she's set for him, with regards to his treatment and recovery. But Mac realizes Rory's concern for him is genuine and does work towards balancing her advice with his determination to get back on the ice.
I enjoyed the background setting of the series, the behind the scenes look at the running of the Vancouver Mavericks and the scenes on the ice. The three friends – Mac, Kade and Quinn have some great banter together and are obviously close. The team's success is in all their best interests as they have personal and business reasons for their involvement, and decisions about the team's future weigh heavily on their minds. Overall, I found this story delivered what I hoped for – a hockey themed sexy romance with secondary characters I want to know more about.
Book Info:

Publication: June 1 2016 | Harlequin Desire | From Mavericks to Married #1
Anything can happen on an island with the one who got away…
Fame, fortune and a sexy-as-hell swagger make famous hockey player Mac McCaskill nearly irresistible to Rory Kydd. They shared a searing-hot almost kiss years before. But now that she's been contracted as his physical therapist, she's determined to keep things professional. She keeps her hands to herself—until they are isolated on his private tropical retreat during a raging storm…
Mac never forgot how Rory made his blood burn. He wants the kiss they never had…and much more. But once the storm ends, so does the fantasy. Will the connection they found in paradise survive the real world?