In Beautiful Player (Beautiful Bastard #3) by Christina Lauren , Graduate student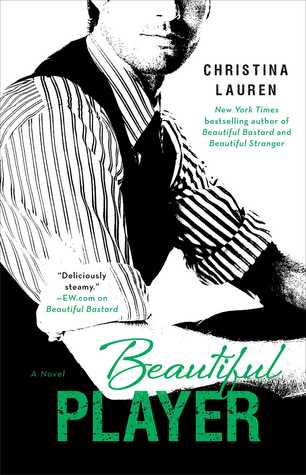 Hanna Bergstrom is more apt to be found in the school's lab than at a friend's party on any given day and she sees nothing wrong with that. But her father and her older brother take issue with her all-work-and-no-play ways. At her brother Jensen's behest, Hanna contacts his best friend Will Sumner, the man who starred in her teenage dreams. She's heard all about his legendary womanizing but he turns out to be a kind, funny guy who is willing to help her get out into the dating world. But after their chemistry gets the best of them and Hanna sleeps with Will, she doesn't need to look any further than him as the answer to her problems–and her dreams.
"When you called me your Hanna earlier," she began and then paused, pressing her hand to my chest, "I wanted it to be true. I want to be yours."
Will didn't really know Hanna, or Ziggy as her family calls her, when he stayed over at the Bergstrom's growing up. But he and Jensen have been friends for years so he accepts the challenge of helping nerdy but beautiful Ziggy become comfortable dating. Will has his own views on relationships and that is to keep it strictly casual, with both parties knowing the score before anything begins. But Hanna, as he's come to think of her, is like no woman he's ever been around. Everything about her is exactly what Will needs in his life. Although he's known as a player, he's pretty certain his lothario ways are over now that he's found Hanna.
'Ziggy was Jensen's sister. Ziggy was the kid I never knew.
Hanna was this uninhibited, self-possessed woman in front of me who I was pretty sure was going to effectively wreck my world.'
Beautiful Player was a terrific addition to the Beautiful Bastard series. Every new installment has me falling for this crazy-sexy group of friends all over again, waiting to see what hilarious and heartfelt situation they'll find themselves in next.
"Get over your man-angst, Will. We had sex. You're supposed to do this kind of thing better than anyone. I'm not asking for a key to your apartment."
I love me some Christina Lauren. I admit I have a lot of favorite authors, but there's no one who perfectly gets that combination of dirty, funny, heartwarming, stylish, and dirty (did I already mention that?) like they do. There's a lot of substance to their storylines and a depth to the characters that makes them seem very realistic, like they could easily be a friend or coworker. That's something that brings me back to this series every time because I feel invested in what happens to these entertaining people.
Studious Hanna and sexy-as-sin Will made a great couple. They were both wicked smart and were surprisingly straight forward in their honesty and their views on sexuality. I liked that Will knew he was a player and made sure anyone he got involved with knew that as well. I thought I would be squeamish about the seven year age difference between him and Hanna but it didn't really factor in very much. She was emotionally mature for being in her mid-twenties even though she was socially awkward and naive in regard to relationships. I thought the combination of Hanna's naivety and Will's experience worked really well for them. And boy was it hot!! *fans face*
There was a bit of angst toward the end during Will and Hanna's issues over accepting their feelings that might be frustrating to some readers but I thought it was done in a real manner. That emotional messiness rang true, given their views on love and relationships. And I loved that through it all, the previous characters we've met such as Bennett & Chloe and Max & Sara were there to give advice…or in Will's case, to lovingly taunt and aggravate him until he figured things out on his own. Even though we were reunited with these characters, readers should still be able to read this as a standalone. Although I would highly recommend the entire series!
Brothers-best-friend tropes are usually a recipe for things getting hot & steamy and super complicated. That was certainly the case for Will and Hanna as they fell for each other. I hope readers will enjoy the connection between these two charming characters as much as I did.
Book Info:

Publication: Published October 29th 2013 | Gallery Books | Beautiful Bastard #3
A bombshell bookworm. A chronic Casanova. And a lesson in chemistry too scandalous for school.
When Hanna Bergstrom receives a lecture from her overprotective brother about neglecting her social life and burying herself in grad school, she's determined to tackle his implied assignment: get out, make friends, start dating. And who better to turn her into the sultry siren every man wants than her brother's gorgeous best friend, Will Sumner, venture capitalist and unapologetic playboy?
Will takes risks for a living, but he's skeptical about this challenge of Hanna's…until the wild night his innocently seductive pupil tempts him into bed- and teaches him a thing or two about being with a woman he can't forget. Now that Hanna's discovered the power of her own sex appeal, it's up to Will to prove he's the only man she'll ever need.