In True Country Hero by Darlene Panzera, single mother Delaney Collins is busy raising her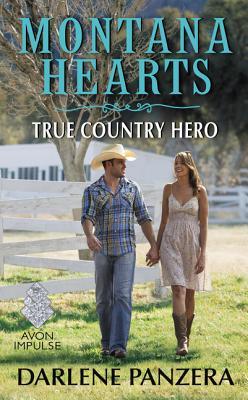 young daughter, helping run the family's ranch, rescuing and rehabbing injured animals, and taking pictures. Contacted to take pictures of a rodeo, she meets Jace Aldridge. When his horse is injured and can't make the trip back to his home in Arizona, and her family needs his endorsement to gain popularity for their ranch, she reaches out and offers a two week stay to him and his horse. Jace, wanting to spend more time with Delaney, agrees to the stay. He's also contacted by a family friend and asked to investigate into a possible poaching situation in the area of Collins Country Cabins.
I loved Jace. When he discovered the man engaged to Delaney's sister was his cousin, and his mother had ripped off their mother, he tried to right the wrong even though it wasn't his place to do so. When he discovered Delaney's two year old daughter, Meghan, he immediately embraces her instead of shying away. He even bought her a toy horse that looked like a replica of his horse, Rio. Their interactions with one another were adorable.
Delaney starts off being a bit of a push over. She lets her family convince her that she had no choice but to invite Jace to the ranch. She lets her sister and friend give her a makeover even though she didn't want one. As the story goes on, however, she develops more of a backbone and learns to stand up for herself and what she wants.
The poaching story ran parallel to Jace and Delaney's budding romance. I found it interesting and enjoyed the fact that I was never truly sure who was committing the crimes that made the Collins family appear guilty.
This is the third book in the series but can be read as a standalone. The first two stories are about Delaney's brother and sister, and both of them and their significant others appear in this book. I haven't read the previous books, but I enjoyed this one so much I'll probably go back and read them.
True Country Hero is a well-written, engaging, and heartwarming story. I recommend it for anyone looking for a country romance with a side of mystery and suspense.
Book Info:

Publication: May 3, 2016 | Avon Impulse | Montana Hearts #3
For Jace Aldridge, the chase is half the fun. The famous rodeo rider has spent most of life chasing down steers and championship rodeo belts, but after an accident in the arena, his career is put on temporary hold. When he's offered a chance to stay at Collins Country Cabins, Jace jumps at the opportunity to spend more time with the beautiful but wary Delaney Collins.
Between trying to make her family's business a success, raising her daughter single-handedly, and volunteering at the local wildlife shelter, Delaney doesn't have time for love. Even though she's determined to not let the handsome cowboy under her skin, Delaney can't deny how much she looks forward to every day with him. She's determined to be friends with the handsome cowboy, nothing more, even though Delaney's heart flutters every time he draws near.
But all is not well in Fox Creek and when a violent poaching ring escalates out of control, Delaney must trust that Jace is the true country hero she hopes he is.