In The Curious Charms of Arthur Pepper by Phaedra Patrick, Arthur Pepper is facing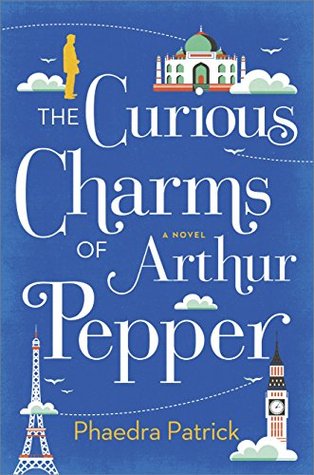 down the one year anniversary of his beloved wife Miriam's death with trepidation. He's found that the only way to deal with his grief is to hide behind his day-to-day routines. But now he feels like he needs to start moving forward instead of being stuck in the past. And donating his wife's clothing is where he will begin. But when he finds a beautiful gold charm bracelet hidden in her closet, he feels compelled to learn more about it.
'He was once Arthur Pepper, beloved husband of Miriam and devoted dad to Dan and Lucy. It was so simple. …What was he now? Miriam's widower? No. There had to be more to him than that. He couldn't be defined by his wife's death.'
Arthur sets off on a quest on his own, knowing his daughter Lucy and son Dan are busy leading their own lives. Little does he know that they are also grieving in their own way. As he travels to places his wife lived in the past, he wonders why she never told him of her life before they married. Each new person Arthur meets and each new location pushes him closer to not only knowing his wife better, but learning more about himself as well.
'…Everything wouldn't be normal again, because this search had stirred something inside him. This was no longer just about Miriam. It was about himself, too.'
What a moving and absolutely charming story! The Curious Charms of Arthur Pepper followed a grieving widower on his journey through three different countries while he searched for answers behind the mysterious charm bracelet his beloved wife kept hidden. What Arthur found was powerful enough to alter his view of his wife, his marriage, and his future.
There was much to love about this debut novel from author Phaedra Patrick. The beautiful storytelling, the intriguing plot, the quirky but lovable secondary characters. And then there was Arthur. Dear, sweet, bumbling Arthur. I adored him and his love for his wife Miriam. His grief was so strong and so clearly detailed that it would be difficult not to empathize with him. Watching him deal with his wife's passing was heartbreaking. But it was also filled with hope when Arthur found something to hang on to as he decided to search for answers regarding her charm bracelet.
Told from Arthur and his daughter Lucy's POVs, it was interesting to see how they handled the loss differently. As well as their view on the stories revealed about the bracelet. There were some lovely, touching moments between father and daughter, especially toward the last half of the book. And I loved that even though they both started off a bit lost, they found out a lot about themselves and what they were capable of. Poor Arthur was like a kid going out into the world for the first time. But seeing his wonder at new people and different cultures was absolutely wonderful.
This might be a book about loss, grief, and secrets, but don't worry about the overall tone being dark. There were many funny moments while Arthur was on his madcap adventure across Europe and Asia that had me smiling and chuckling. From the comical situations he found himself in to the enlightening conversations he had with people from Miriam's past, I think readers will feel the myriad of emotions Arthur went through, too.
An intimate glimpse into one man's struggle to cope with loss and the uncertainty of his future, The Curious Charms of Arthur Pepper was well worth every moment I spent reading it. If this story doesn't pull at your heartstrings, I don't know what will.
Book Info:

Published May 1st 2016 | by MIRA |
"Phaedra Patrick understands the soul. Eccentric, charming, and wise…The Curious Charms is not just for those who are mourning over love or the past. This book will illuminate your heart." — Nina George, New York Times bestselling author of The Little Paris Bookshop
"Tender, insightful, and surprising… [Arthur Pepper] will instantly capture the hearts of readers who loved Rachel Joyce's The Unlikely Pilgrimage of Harold Fry, Nina George's The Little Paris Bookshop, and Antoine Laurain's The Red Notebook." — Library Journal, starred review
In this poignant and curiously charming debut, a lovable widower embarks on a life-changing adventure
Sixty-nine-year-old Arthur Pepper lives a simple life. He gets out of bed at precisely 7:30 a.m., just as he did when his wife, Miriam, was alive. He dresses in the same gray slacks and mustard sweater vest, waters his fern, Frederica, and heads out to his garden.
But on the one-year anniversary of Miriam's death, something changes. Sorting through Miriam's possessions, Arthur finds an exquisite gold charm bracelet he's never seen before. What follows is a surprising and unforgettable odyssey that takes Arthur from London to Paris and as far as India in an epic quest to find out the truth about his wife's secret life before they met—a journey that leads him to find hope, healing and self-discovery in the most unexpected places.
Featuring an unforgettable cast of characters with big hearts and irresistible flaws, The Curious Charms of Arthur Pepper is a joyous celebration of life's infinite possibilities.
More Praise
"Filled with colorful, complex characters and adventure…I was moved by Arthur and his journey. You will be too." — Marisa de los Santos, New York Times bestselling author of Love Walked In