True North (True Series #1) by Liora Blake: In Crowell, Montana, Kate Mosely lives with the pain of the past after a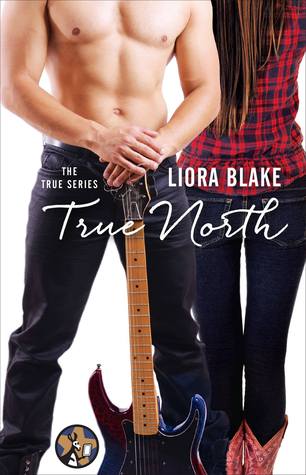 tragic car accident takes the life of her husband. Kate, a writer, heads for Los Angeles to do publicity for her book. While waiting in the greenroom at a talk show, she meets Trevor "Trax" Jenkins, a musician. He pursues her relentlessly with cute text messages and calls.
Their conversations are great, so honest and easy. They talk to each other like adults while still having fun. However, the two live such different lives. Her life is in Montana, with the ghost of her husband and his is in Los Angeles. Trevor is also haunted by death. His brother overdosed on drugs with money Trevor gave him. The pain is something they both understand and it brings them closer together.
"I think you're sexy and amazing and funny and charming. Every time you call me on the phone or send me a completely random text, I spend the first thirty seconds confused, trying to figure out why you're wasting your time with someone like me. Then the rest of the time, I'm just trying not to think about how good it felt when you were kissing me or touching me."
I really enjoyed True North. It is sweet and flows very easily. There is a great love story without an overabundance of angst. Trevor is dreamy, you can easily understand what Kate sees in him. True North is about Trevor and Kate, not about their professions. If you are looking for a story heavy on music, you'll need to look elsewhere.
True North by Liora Blake is the first in a new series and I can't wait to read book two. I highly recommend this book to anyone wanting to read a adult romance full of love and forgiveness.
Book Info:

Publication: April 6th 2015 by Pocket Star | True Series #1
While most novelists would consider jetting off to Hollywood for a TV interview rather exciting, small-town Montana writer Kate Mosely finds it all a bit exhausting. After losing her husband in a car accident where she was behind the wheel, Kate has finally found her bearings in the world again, rebuilding a simple but stable life. And even if that means a lot of lonely nights watching old movies and quiet days writing obituaries for her hometown newspaper, Kate's not sure she's ready for her life to change—again.
Until she shares the stage—and a whole heap of carnal gazes—with rock star Trevor "Trax" Jenkins. Despite his intimidating on-stage bravado, underneath it Kate discovers a man with a Rilke poem tattooed on his arm, an appreciation for cronuts, and a snarky wit that matches her own.
As she and Trevor explore their heated chemistry, the scarred parts of Kate's heart begin to heal, making room for a love so passionate it makes her want long-forgotten things equal parts naughty, heart-swelling, and joyful. But when a searing exposé in a trashy gossip magazine sends Kate running, will it threaten their chances at forever?