In True to You (Montana Heat #2) by Jennifer Ryan, As a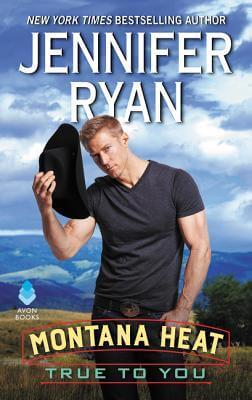 sniper for the DEA, Dawson King never saw himself going undercover. But after he was set up by a local drug dealer to take down one of the criminal's enemies, King wants to see Iceman behind bars. And the way to do that? Get close to Iceman's daughter Cara Potter. King isn't sure if she's part of her old man's business dealings or if she's on the up and up, but he aims to find out. So after a fake drug charge gets him some real time behind bars, he's soon on parole and winds up at Cara's diner for a job. All goes as planned while King investigates until he realizes that not only is Cara the kind, if not cynical, soul she appears to be, but his attraction towards her is mutual. And attempting to separate his job from his emotions will prove to be the hardest thing King has ever done.
'They both wanted the same thing. Truth. Kindness. Love. Something meaningful.
He didn't know if any of that was actually possible between two people without it being complicated by lies, pain, and good intentions gone bad.'
Cara learned from a young age that the only person she could count on was herself. She definitely can't count on her drug trafficking dad as he's the root of most of her problems in life. Running her own diner has given her a purpose, especially now that she employs parolees in the hopes of giving them a fresh start. But her newest employee might just give her a run for her money. Flash is handsome and intelligent, a supposed bad boy looking for a break, but there's something about him that gives Cara pause. He seems too good to be true. And she's learned to trust her instincts when it comes to the people she surrounds herself with after ignoring the warning signs a few years ago, getting hurt in the process. As the truth starts to come out–after already falling head over heels for Flash–can Cara look past it all to give them a fair shot at a real relationship?
"Everyone in my life says they love me with one breath and apologizes for their deceit with the next."
Deception and lies were the name of the game in True to You, Jennifer Ryan's newest addition to her smoking hot Montana Heat series. Filled with suspense and a lovely–but tension-filled–bond between our hero and heroine, this book had my heart pounding and my fingers crossed that it would all work out.
"There is right and wrong, truth and lies. We are in between those lines. No matter what else happens, when it's you and me like this, for better or worse, there is only stark truth between us. I can promise you that much."
Every time I read something by Jennifer Ryan I'm on an emotional roller coaster that makes me a nervous wreck–but yet I somehow never want it to stop. I admire her for not being afraid to tackle some tougher issues like we've seen so far in this series. Now I didn't think True to You was *quite* as dark as book one, Escape to You. But it was every bit as compelling, had amazingly realistic characters, and had a plot that kept me guessing.
I sometimes have a difficult time connecting with characters when their relationship is built on lies. In this case, where King was undercover but such a stand up guy, it didn't bother me so much. I thought it was an interesting setup for the story and his being undercover added a lot of tension between Cara and King, which Jennifer Ryan capitalized on superbly. I loved their connection right away and it kind of broke my heart that they didn't think they'd get a chance to see where their feelings could take them. I had faith that it would all work out, but boy was it a bumpy, tangled up ride to get there.
The other part of the book that I think readers will enjoy is figuring out who is in cahoots with whom and if the secondary characters really are who they seem to be. It was like a game with moving parts, watching Cara's father Iceman, her uncle Otis, and the parolees she hired in the diner, trying to piece it all together. Some of the twists were heartbreaking for Cara but I liked that she was a truly strong person and tried to learn from every experience. *And* that King was there to help her as much as possible, given his precarious position in her life as undercover DEA.
Lines were crossed and relationships were changed forever, but ultimately redemption was found in True to You. Jennifer Ryan again proved that she can deliver an exciting yet still heartfelt story that will have fans cheering and wanting more.

Book Info:

Publication: February 27th 2018 | Avon | Montana Heat #2
A Montana Man risks everything for the woman he loves . . .
Undercover DEA Special Agent Dawson King spent five months in a Montana prison establishing a fake identity to take down a ruthless drug dealer and put him behind bars. Except there's a wild card . . . the killer's beloved daughter. Cara Potter may appear to be on the right side of the law, but King has learned the hard way to trust no one—even someone as tantalizing as the coffee shop owner. She's irresistible . . . but is she also dangerous?
From the moment he enters her life, King makes Cara . . . nervous. The handsome drifter says he wants to get his life together . . . but there is something about him that doesn't quite ring true. Cara wants to believe in him, yet she holds back despite the way he awakens dormant dreams and leaves her breathless with his sexy smile, steamy kisses, his every touch.
When the explosive truth comes out and she's betrayed by the ones she loves, Cara must decide—can she trust her heart, or should she listen to her head?