In Saving the Sheriff (Hills of Texas #1) by Kadie Scott, Sheriff Cash Hill is determined to do two things –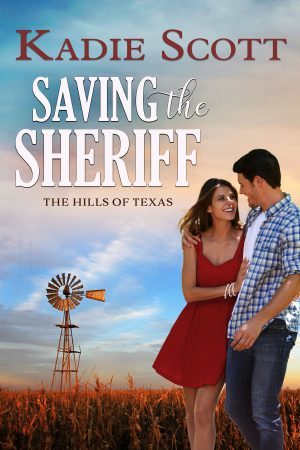 – to be a good sheriff and raise his daughter. Certainly, there's no way he'd give another woman a chance, not after learning that the day his wife died she was going to leave him for another man. But when his late wife's best friend, Holly Jensen, returns to La Colina, Cash finds it hard to ignore the intense chemistry that bounces between them. Will he give forever after another chance, or will his trust issues keep him from ever giving Holly his heart?
"Get it over quick," Cash said, closer than she expected.
She startled then tipped her head to grin at him. "Like ripping off a Band-Aid?"
He grinned back. "Exactly. I take it you're not comfortable with crowds."
That's what he thought she was worried about? Granted, crowds were part of it, but Marcus and her history were more. Not that he knew about Marcus. She'd stick with Cash's excuse though. "Your law enforcement skills kicking in again, Sheriff?"
Ever since reading another book of Ms. Scott's I've looked forward to anything she releases, and this story starts her Hills of Texas series off marvellously. Really, this story had everything I love in a contemporary romance such as well-written and engaging dialogue that was a wonderful combination of intense moments and playful banter that made this story a total page turner; and incredible main characters that have been through so much in their pasts and have some tough obstacles to overcome to be together because Holly is the best friend of Cash's late wife.
The way this story started sets the fast-pace of the story and had me intrigued by the hero's reaction to the heroine, as facing her brings back the painful reminder of his late wife and the things he's discovered since her death that have caused him pain. Will the hero realize that Holly isn't the bad guy? Moreover, the heroine is resilient and courageous in dealing with everything that's thrown at her throughout this story that could turn Cash away from her for good. I also liked that she would do anything to protect Cash and his daughter, which is proven by the decisions she makes and the support she gives the hero, even though he doesn't know what to think when he learns something that could change his life forever if things don't work out his way.
While the hero, he's been through so much because of what his late wife has put him through, especially since he's still dealing with her betrayal when he learns what the heroine is keeping from him. I also liked the close relationship he shared with his family and that he would do everything to protect them, even though he needs them at a time when his life is being turned upside down. Yet, what I liked most of all about the hero is that he gave Holly a chance, even though it was hard when she's his late wife's best friend and he doesn't know whether he can trust her or not.
"What? You don't think I'm good enough for your big brother?" She said it with a laugh in her voice, indicating she was joking.
But something in him, down deep and very caveman, didn't like the thought much. Jeez, Hill. Get a grip. "I'm not going to dignify that with a comment. I noticed you didn't answer the question."
Holly laughed. "You got me, sheriff. Are you going to break out those handcuffs you threatened me with last night?"
"I thought we agreed no flirting."
Overall, Ms. Scott has delivered a wonderful read in this book where the emotion could be felt along with the main characters as they deal with all the obstacles they face to achieve their happy ever after; the chemistry between this couple was powerful; and the ending had me loving how far the hero was willing to go to make Holly see that she does have what it takes to be in a relationship. Will his attempts work? I would recommend Saving the Sheriff by Kadie Scott, if you enjoy the enemy to lovers trope or books by authors Jennifer Faye, Eve Gaddy, Jane Porter and Lynne Marshall.
Book Info:

Publication: January 23rd, 2018 | Tule Publishing | Hills of Texas #1
There's a storm brewing…
The day his wife died, Sheriff Cash Hill discovered she was leaving him for another man, one she'd loved since before their marriage. How could the single dad ever trust another woman again? But when Georgia's best friend, Holly, comes back to town, something about Holly's sweet, sassy vulnerability has his protective instincts kicking in hard.
Holly Jensen left La Colina, Texas with regrets. She's returned home to work as the new large animal vet and to watch over her best friend's daughter. But Holly's knowledge of Georgia's past could rip a family apart. And she's reluctant to go to the sexy…and single…sheriff, as he's made it clear he wants nothing to do with her.
Both are faced with a choice…stay locked in the past or allow their reservations to be silenced by a passion hotter than Texas summer nights. Can they learn to trust their own hearts and each other?