Trust in Me by Jessica Linden is book three in the Fight for Me series and has everything you could want…drama, suspense, and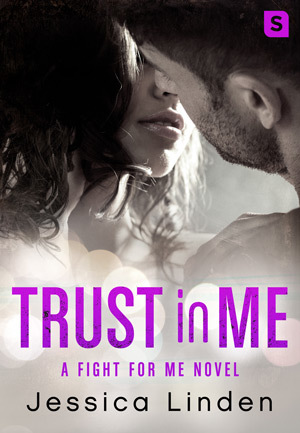 characters with believable chemistry who you can't help but root for! The story flows easily and the struggles each character goes through is not only deep, but realistic, as well.
Marco Adamo had it all, until an accident left his best friend in critical condition. The accident changed everything and after that, he couldn't deal anymore and left it all behind to join the Army. Marco's back, four years later, and needs to right the wrongs of the people he left behind. Starting with his brother. But on the way to see him, he stops and offers his services to Kat Delegrage, who obviously needs help with car.
Kat is used to playing it safe and keeping to herself, but there is something about Marco that appeals to her. When Kat finds out Marco was the man who is responsible for her brother being in a wheel chair, she makes a promise to stay away from him. Her brother doesn't hold anything against Marco, but Kat does. All her intentions of staying away from Marco go awry when some bad men try to kidnap her. Turns out, Kat's father is a notorious lord of the criminal underworld and because of her connection to him, she's in danger. She'll have to trust Marco if she wants to stay alive.
Kat and Marco both have gone through some tough times. They each have their own demons they've had to fight through. They are both broken when they first meet. Can these two heal each other before the bad guys take away any chance they have at a happy ending?
The author does a great job at developing the relationship between Marco and Kat. There were real obstacles between them and the author didn't gloss over them. I liked that this relationship wasn't easy and they had to fight for their happy ending. Trust in Me is a heartfelt romance with many twists and turns thrown in, that will keep anyone intrigued.

Book Info:

Publication: October 24th 2017 | Swerve | Fight for Me #3
As the heir to a large pharmaceutical company, Marco Adamo had it all. But when a drunk Marco crashes his car, leaving him unharmed but his best friend in critical condition, Marco's life is thrown off track. In an attempt to regain control over his life, Marco flees to the military and returns, ready to own up to his actions and his past.
Four years later and returned a changed man, Marco meets the beautiful Kat Delegrage. But before their relationship can blossom into something real, Kat learns that Marco was the man behind her brother's severe injuries. Kat vows to keep Marco out of her life…until a shadowy man from her past threatens her, making her realize that she'll need to trust Marco to protect her…and in the process, find a way to let him into her heart for good.