Truth or Dare (Dare to Love #1) by Mira Lyn Kelly has eveything. Sexy characters, funny friendships, a dating dare, love, family and secrets. It was a wonderful story with a sweet HEA.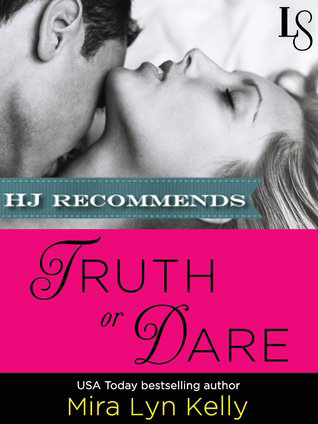 Maggie Lawson, cookie baker, friend maker, gallery manager, and happy single. Maggie wants nothing to do with love or the dating scene after an ex-fiance lied to her, allowing her to find out three weeks before their wedding that he was really married when his wife, pregnant with their third child, shows up and announces to everyone that Maggie is a home wrecker. A woman with trust issues, Maggie never wants to open herself up to that kind of disappointment and hurt ever again. That is until she meets "Number Three", Tyler Daniels.
Tyler Daniels does not need distractions. He is on a mission to try and get back the son that he lost, the son he thought was his. He will do anything to get him back, including sacrifice his happiness and support the Gina, the woman who lied to him, the woman he doesn't love. Then why is he so drawn to smart mouthed, cookie baking Maggie. Why does he go out of his way to help her with her monthly dates, and why is he envisioning a life and family with her?
Knowing that neither want any thing permanent, both knowing that they are drawn to each other, that there is a chemistry, they give in, and decide to remain friends when it is all over. But when Gina makes a move to real Tyler in, and Maggie starts dating Hot Doc, Lou, neither are ready to give up what could be the only good thing, the only really thing that can make either of them happy.
I loved Tyler. I totally felt for what he was going through. How torn he was over the love a boy that for the first year of his life he thought was his, and his deepest desire to have a life with Maggie. I loved Maggie. She has such a strong sense of character and it shows when she needs to make hard decisions in order to help Tyler try to reunite with little Charlie.
The best friends in this book are a riot, and some of the best scenes happen with all of them together, counting and replacing condom boxes in Maggie's Bedroom, Breaking into her apartment to spy on her dates, fighting over the cookies she makes and razzing Tyler and Maggie about their friends with benefits relationship.
I truly enjoyed this book and look forward to more from this author.
Book Info:
Published September 16th 2014 by Loveswept 

|  (Dare to Love #1)
In a deliciously sexy twist on the classic game, Mira Lyn Kelly proves that when playing truth or dare—always choose dare.
After her one attempt at commitment ends with the discovery that her fiancé already has a wife and kid, Maggie Lawson vows that the only people she'll love 'til death do they part will be her friends. Unfortunately that means Maggie letting her bestie rope her into a year-long dating dare: score a new date each month or pay a penalty. Seems doable—until Maggie's date stands her up, leaving only one option: the sexy stud who just moved in upstairs. The problem? He and Maggie can't stop fighting—and that's just the beginning.
His name is Tyler Daniels and the last thing he needs is his neighbor distracting him with her girl-next-door smile and sharp tongue. Tyler's in Chicago for one reason: to woo back his selfish ex in order to reclaim the child he once thought was his—and that means keeping Maggie out of his bed. A tall order, since Maggie has become a bigger temptation than he ever expected to face. But before they can even consider leaving the past behind, Maggie and Tyler must accept a brand-new dare: real, forever love.