Try As I Smite by Abigail Owen finds Alasdair Blakesley, head of the Covens Syndicate, with a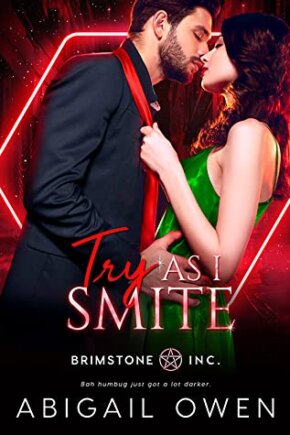 problem; demons are possessing the witches and warlocks he leads. He needs help to get to the bottom of it, so he turns to Delilah, the owner of Brimstone Inc. Her job is to help people with supernatural problems, but, as much as she wants to help Alasdair, she can't because of what she is. She sends him to her mother, who sends the pair through their own paranormal version of "A Christmas Carol." Having to relive the past, Alasdair finds out exactly what Delilah his. Will he be able to accept her? And when Delilah has a vision of the future, will she be able to break the bonds holding her powers back to save the man she loves?
The paranormal take on "A Christmas Carol" was a fun twist to the story. It was interesting to see their takes and get their reactions to things that had happened in the past, present, and the future, including their very first encounter.
This book wasn't very long so I was able to read it in one sitting. It moves along at a fast pace as the pair are transported from spot to spot. Because of the length of the story, it felt like the relationship between Alasdair and Delilah was rushed. It was pretty much insta-love, which I'm not a big fan of. It felt like so much of the book was devoted to time-hopping and dealing with the invading demons that it took away from actually developing the relationship between the pair. This made it a little hard to buy the ending of the story.
Some things were also brought up but never resolved. For example, it's mentioned that Delilah helping Alasdair would have consequences, but readers never see these consequences. Her parents aren't supposed to see one another or there would be problems, but they're together several times throughout the book and nothing happens to them. These were mentioned and then dropped with no follow-through.
This is the fourth book in the series. I haven't read the previous books, but with the familiarity they had with one another, it felt like Alasdair and Delilah had already had interactions with one another at some point prior to the demon attacks. It didn't take away my overall enjoyment of the story, but it did make me feel like I might have been missing some backstory between the pair.
While I liked the concept of the story, the execution fell flat for me. If you don't mind insta-love stories and enjoy paranormal books, especially those involving witches, warlocks, demons, and angels, then you may enjoy this one.

Book Info: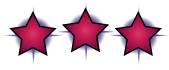 Publication: October 1, 2020 | Amara | Brimstone Inc. #4
Bah humbug just got a lot darker.
Alasdair Blakesley is the head of the Covens Syndicate. He shouldn't need to look beyond the witches and warlocks he governs, or his own abilities, to solve any problem. But a demon infestation means he can't trust anyone who may be possessed. The last person he wants to ask for help is also the only person who can fix this, so he sucks up his pride and storms into her office.
And she turns him down cold.
As the owner of Brimstone Inc., Delilah's passion is helping others with their supernatural problems. But Alasdair is the last man Delilah wants to tangle with. The infuriating man sees too much and demands even more. And did she mention the way he sets her body on fire?
Not that it matters — demons are the only things with which she cannot interfere. Too bad a higher power steps in and sends them both on a crash course of each others' pasts, presents, and futures.
How is a Christmas Carol nightmare supposed to solve his demon problem without breaking the rules she's bound by?