In Twice Bitten (Argeneau #27) by Lynsay Sands, Freedom is something Elspeth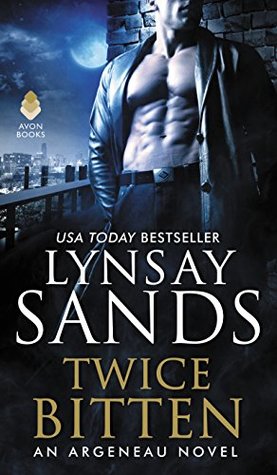 Argeneau has been dreaming of for almost a century. Not that she's been held captive, per se. Not really. It's her mother Martine's controlling nature that has held her back from living a normal life. Well, as normal as it gets for an immortal. But now Elspeth is on the cusp of everything she's dreamed of: a job, friends, a social life, and maybe some day a life mate. So she's rather shocked when she notices the connection with her landlord's hunky grandson–and when she realizes she can't read his thoughts. Elspeth isn't sure she's ready to settle down with a life mate yet since gaining her newfound freedom. But as her life keeps getting threatened and she learns the truth about certain events in her past, Elspeth is glad to have a man like Wyatt at her side. Possibly even permanently.
'Elspeth had no intention of ending up back in England under her mother's control after working so hard to escape.'
Meeting Elspeth four years ago changed Wyatt's life in the best of ways. But losing touch with her has always bothered him, forcing him to search for her with his every spare moment. So not only is he surprised to find her renting an apartment from his elderly grandmother, but he's also wondering if it was just a coincidence. The downside is that Elspeth doesn't seem to remember Wyatt. And he's not sure how that can be, considering the undeniable pull they had toward each other–and still do to this day. After years in the military he's gotten pretty good at trusting his instincts. And his gut is telling him something isn't right with the situation. Wyatt is still determined to make El his and prove to her that they're meant to be together. But when he finds out the truth of who and what she is as well as being put in the line of fire trying to keep her safe, will it prove to be too much for their fledgling relationship?
"Elspeth," he interrupted firmly. "I dated a lot of women before you. It was a different girl in every port kind of a deal. But none of them even touched my heart, while you flat-out owned it before I even kissed you," he assured her, some of his own amazement at that showing in his voice.
One seriously controlling centuries-old mother had me ready to stand up and fight for our heroine to finally be free to live her life. Along with this epic battle of wills, Twice Bitten was loads of fun with some action and a touch of mystery thrown in as well.
'He'd found his El again. After four years of searching, and long after he'd given up on ever having her back, here she was. Nothing was going to take her from him again…'
For such a longstanding series, Lynsay Sands is still managing nicely to keep things fresh. For me, the Argeneaus are just as interesting as they were when I first picked these books up and with each new addition, I feel like it adds something positive to the ongoing storyline. Now I knew going in to this story that it was somewhat of a second chance romance. (Which I love) But it wasn't your typical plot for this type of trope. Sands put a spin on it and even though I thought I knew what had happened, there was more to why Wyatt still searched for Elspeth four years later and why she had no clue about their short-lived time together.
I had a great time getting to know Wyatt and Elspeth. He was a former special forces soldier who then became a bodyguard so he was physically fit, could easily piece situations together mentally, and was actually quite heroic. I *loved* that Wyatt hunted for El after their magical time together. He may have worried he'd never find her again, but when they were reunited it was so wonderful to watch him realize time hadn't diminished their connection. Elspeth was a terrific heroine as well. She was curious and caring and wasn't overly dramatic–even when she had cause to be. So I had to admire her levelheadedness. Elspeth was a good match for Wyatt as they were both pretty darn brave and neither was afraid to fight for what was right. They were quite sweet together, too. I had fun with their dialogue and their, ahem, romantic scenes, as it seemed something was always going wrong for them.
I do have to note that I was seriously hung up on how horribly controlling Elspeth's mother Martine was the whole time I was reading Twice Bitten. To the point that I really did want Elspeth to do *anything* she could to escape her mother's hold. Even when we found out more about Martine's past it honestly didn't make it okay in my mind for her to have treated her family so poorly. I think readers will cheer, though, when Elspeth and her aunt Marguerite stand up to Martine, causing a ripple effect of changes in all their lives, for the better.
Twice Bitten was another great addition to the Argeneau series. It will surely have readers on the edge of their seats one moment with the exciting action and then sighing happily the next from the lovely romance.
Book Info:

Publication: March 27th 2018 | Avon | Argeneau #27
Thrilling, witty, and oh-so-sexy, Lynsay Sands' Argeneau novel brings together a beautiful Immortal and the man who is her destiny…
For someone who's been around for over a hundred and forty years, immortal Elspeth Argeneau hasn't done a whole lot of living. Now that she's moved away from her controlling mother, she's tracking down rogue vampires and enjoying some overdue freedom. A fling would be fun. A life mate can wait. Yet to Elspeth's surprise, her landlady's hot grandson checks both boxes.
Wyatt fell instantly in love with Elspeth four years ago. He's stunned to run into her again, especially as she has no memory of him. Then again, there are a lot of things about Elspeth that don't make sense, like the miraculous speed with which her wounds heal. And the chemistry that transforms every touch into an explosion of desire. But with mysterious "accidents" besieging Elspeth, the ex-Special Forces soldier appoints himself her bodyguard. But time is running out to uncover the truth about her enemies—and rediscover the man determined to love her for eternity.