Poison Kisses by Lisa Renee Jones is broken into three installments and each part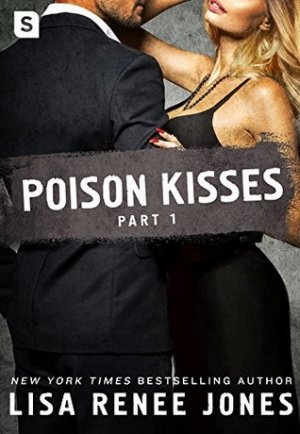 should be read in order. This review is dedicated to Part 1.
Seth Cage receives orders to track down Amanda Skye and detain her. They need her to create an antidote, but after she does her duty, she is to be killed. Seth has been looking for Amanda for three long years and can't wait to get his hands on her. He fell in love with her, while she screwed him over. When he finds her, old feelings make themselves known.
"You said you'd kill me."
"After I cuff you to my bed."
Both Seth and Amanda still can't get over each other, even though it's been three years since their last encounter. The author takes us back to the past on how they met and how quickly their relationship turned into something neither was expecting.
I liked that both characters were dangerous. Seth might be named the "Assassin" but Amanda's favorite toy is poison and she isn't afraid to use it. They both complete each other in a way, others wouldn't be able to comprehend. Seth goes full throttle and isn't afraid to kill. Amanda thinks things through and figures out a way not to kill.
The only part I didn't care for in this book was the beginning, because our hero is being intimate with someone other than the heroine. Seth admits that he loves Amanda, but while they are apart, he's with someone else. The woman he's with doesn't mean anything to him, but he was not celibate like Amanda was. I like my characters on equal footing if they end up breaking up. Other than that, Poison Kisses Part 1 is short, thrilling, and intriguing. Reading the next part is a must!
Book Info:

Publication: February 6th 2018 | St. Martin's Griffin | Poison Kisses #1
Amanda Skye made me want her. She made me trust her. She made me love her. Then she betrayed me. And now, a madman brings us together again and before our battle with him is over, I will make sure that she never forgets my name: Seth Cage. The Fixer for The Brandon Family Empire, but to a covert CIA operation, I will always be The Assassin. And to Amanda, I will be the man who made her moan, sigh, and beg. And I will make her beg.
***Note — Poison Kisses is part 1 of a 3 part serial: All three parts are super sexy with an alpha man who has met his match in a kickass female. There will be naked moments that may or may not include a gun, which may or may not be his gun. ****