In Twin Surprise for the Italian Doc (Rescued Hearts #2) by Alison Roberts (HQN), Georgia Bennett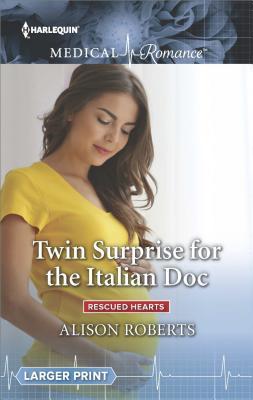 wants a baby, but she never imagined falling pregnant with twins. However, she doesn't want a relationship, so telling the father is out of the question. But when Matteo Martini – the man she had a one-night stand with — comes back into her life, Georgia knows she can't hide the truth from him. Will she tell him he's the father, so they have a shot at happy ever after; or will she let her Mr. Right get away?
"You have given up on that hare-brained scheme you came up with after that bastard, Rick, walked out, haven't you?"
Uh-oh…"I have no idea what you're talking about."
"Oh, yes, you do. The one where you gave up on men completely and were going to have a baby all by yourself?"
This is the second book of Ms. Roberts Rescued Hearts series, which features Georgia as the heroine and Matteo as the hero, two fabulous characters that readers are introduced to in the first book of this wonderful duet and I've got to say that this book does not disappoint. Although, in saying that, it was hard to understand where the heroine was coming from in keeping things from Matteo. Doesn't she know that secrets and lies have a way of coming out that could end up hurting the ones she loves; and hurt her chance at happy ever after, a chance she never imagined she'd have because she doesn't trust easily due to other people disappointing her in the past?
"So Kate knew, too?" Georgia had looked wounded. "She didn't tell me."
"I asked them not to. I wanted it to be a surprise."
"Oh…" She made a hollow sound that wasn't quite laughter. "I'm surprised…"
"Kate though it was a good idea."
"What? You coming to work in Edinburgh?"
Both the main characters were very interesting and compelling due to their back stories, their growing relationship and I loved every interaction between them, as Georgia is determined to do everything not to let Matteo into her life anymore than he already is. However, in saying that, their chemistry is intense and it gets harder and harder for Georgia to resist the hero, which is exactly what she needs to be able to realize that there are good men in the world and that not all of them will let her down.
Furthermore, the heroine is resilient and determined to go it alone when it comes to her pregnancy, which is proven by the secret she's keeping and the lies she tells that just keep digging her deeper and deeper in trouble with Matteo, as it's palpable the truth will come out. I also liked her enthusiasm when it came to her job and that she would do anything for her patients, even if it means going head-to-head with the family of a patient in her determination to do everything she can to make certain her patient lives. Will the patient have a happy ending?
"Um…I told Matteo I'd found a place for him to stay while we were back in town. I was hoping you'd give him a lift."
It was something to do with that hopeful smile on Kate's face that planted the seeds of a suspicion that rapidly grew into disbelief. "You didn't…"
"It seemed logical. A place to stay and he can use my car until I sell it. And you two are getting on better now, aren't you? You might even like him, Georgie, if you gave him a chance. Luke's told me all about Matt and he's a great guy…" Her friend was matchmaking. Worse than that, this was like an intervention.
While Matteo, he's loyal, a good friend and I liked how determined he was to win the heroine over, despite everything she puts him through that makes him realize what she does is only to protect herself from anymore hurt. I also liked the close relationship he shares with his family and that he would do be there for any of them at the drop of a hat, even if there are other important things going on in his life. Yet, what I liked most of all about the hero was his love for his work and how supportive he was of the heroine when it came to helping her, which is proven by what happens towards the end of this story, and yet, which also causes their relationship to go awry. Will Georgia be able to make things right between them? Will Matteo realize that what Georgia did was only to protect herself from future hurt, seeing as she's already had enough hurt in her life that has left her with both emotional and physical scars?
Overall, Ms. Roberts has delivered a captivating read in this book where the chemistry between this couple was intense and makes the romance all the better once they find their way back to the easiness of their one-night together; and the ending had me sympathizing with the hero because of what Georgia puts him through, but had me liking how determined the heroine was to make things right between them once she got the chance. Then again, Matteo is a very understanding guy, so he could see why she did the things that she did to keep herself safe from being hurt again. I would recommend Twin Surprise for the Italian Doc by Alison Roberts, if you enjoy the surprise pregnancy trope or books by authors Amy Ruttan, Annie O'Neill, Emily Forbes and Tina Beckett.

Book Info:

Publication: January 16th, 2018 | Harlequin Medical | Rescued Hearts #2
It started with just one night… But Dr. Matteo Martini is in for a double surprise!
Paramedic Georgia Bennett has never forgotten the night of no strings she shared with delectable Matteo, but never expected it would lead to the most surprising of consequences. And as he walks toward her at her best friend Kate's wedding, Georgia knows she has to tell him the truth…