In Twins on Her Doorstep by Alison Roberts, Shocked can't even begin to describe how GP Sophie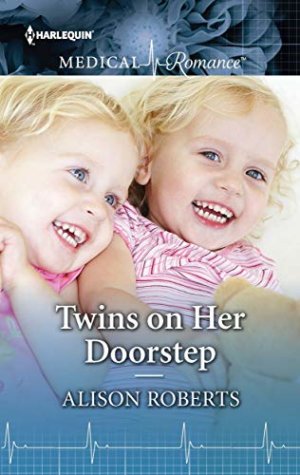 Bradford feels when a handsome stranger shows up at her door, towing two precious three-year-old girls with him, and tells her that they're her biological children. Never really thinking about the eggs she donated after her husband's death and her subsequent miscarriage, Sophie isn't sure what to do about Dr Finn Connelly or his newly orphaned nieces–her daughters!–Ellie and Emma. But one thing is clear, they will need to overlook their undeniable chemistry to ensure the twins end up in the most stable, loving of homes Finn and Sophie can figure out between them.
'The attraction had been there almost right from the start, hadn't it? Simmering away…
And now it had boiled over into something she couldn't hope to control.
She didn't want to.'
A charmer of a small town romance with a couple of unexpected bumps along the way and tons of likable characters, Twins on Her Doorstep reminded me just why I've always enjoyed the Harlequin Medical line of books.
'They were on this journey together, deciding the future of two small girls, and it felt, in this moment, as if they were making a pact to do what was right, no matter how hard it was.'
This proved to be a heartwarming tale of learning to trust and love again, one step at a time, for two people who had been hurt badly before. Pulled together over a unique set of circumstances, I loved that Alison Roberts included our main characters' full range of emotions, doubts, and hopes for the future to make this a well-rounded story.
Sophie and Finn had each been through their own tragic personal issues in the recent past. And it was those events that held them back from fully giving in to their obvious bond at first. Their qualms about risking their hearts felt genuine and completely realistic given what had happened to Finn and Sophie. I really liked them both and found them to be honest, caring people who were great at their chosen career in medicine and had a kind nature that made their patients trust them.
The twins, Ellie and Emma, were adorable and I thought enhanced the overall story without taking it over. The same went for Sophie's parents who were smart and so loving and warm that I just wanted to spend a day with them in their cozy kitchen drinking tea. (lol) I think readers will also fall quickly for them–and the rest of the lovely group of locals–and will cheer on Sophie and Finn to find their HEA while forming a true family together with Ellie and Emma.
Book Info:

Publication: December 18th 2018 | Harlequin Medical |
A knock at the door… will change her life!
After the heartbreak of losing her husband and baby, GP Sophie Bradford donated her eggs, hoping to bring happiness to another couple instead. Then Dr Finn Connelly arrives on her doorstep with his orphaned nieces – who also happen to be her biological twin girls! Sophie had vowed never to risk creating another family, but Finn and her adorable little daughters start to melt the ice around her heart…