In Twins Under the Christmas Tree by Marin Thomas, Conway Twitty Cash wants to settle down and have a wife, but he is dead set against being a father. Knowing where he comes from gave him a such a scare that he doesn't want to repeat his father's and grandfather's mistakes himself, and the best way is to avoid them completely. So when at a rodeo a woman comes on to him he cannot help but be happy to see where it leads, until a picture she send him has a child's clothing article in the back. He wants no children or any woman with children So he decides to skip out on her and head to the bar and meet his friend Isi Lopez.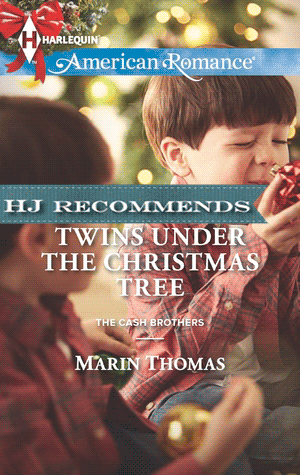 When Conway and Isi first met, he immediately hit on her and wanted to take thing further, but as soon as he found out she had twin sons he backed away. Now they are best friends, and she is the person he always goes to when he needs to talk. Unfortunately, this time when Isi shows up to work so does the date that Conway ditched.
At first he thinks that he can explain why he will not have anything to do with her, but this lady does not give up easily, and seeing the easy camaraderie between Conway and Isi she becomes quite angry. Conway sees her anger escalating and sees the punch coming, and ducks out of the way. Unfortunately Isi was behind him and she gets punched  So Conway decides to take her to the hospital since it's his fault she was injured.
Isi is poor, she is trying to do something better for her and her sons. Which means that she does not have health insurance and lives in a trailer. So Conway decides to pay for everything himself not only to help her, but also to ease his conscience. Then after she is diagnosed he takes her home, but when they arrive he is worried that her meds will knock her out and either she or her sons could needs help in the middle of the night. Therefore, he decides to stay sleep on the couch in case he is needed.
Conway never expected to become close to Isi's kids, but looking after them brings forth a feeling of wanting to protect them. Only the closer they get the more danger he is in of falling for the life he is afraid of. And after one night of passion with Isi, Conway freaks out and backs away. Then sets her up with his brother, thinking that will be safe for them all. What he does not expect is the jealousy that surges when his brother and Isi are out on a date.
Well I won't tell you what happens, but you can be sure that Conway will regret his decision and make it very clear to everyone but himself that he is interested and possessive of Isi and her kids. But first he must get past his fears before he can accept the ready-made family that is just waiting for him to take them. Reading about both Conway and Isi's pasts just make you understand them and cheer them on even more. At least I sure did, and kept waiting for them (at least Conway) to finally accept that they all belonged together.
If you read the first book about the Cash brothers you know that each and every story will hook you in, for each and every one of them had a tough childhood in a way without either of their parents. And honestly I can't wait for the next book in this series.
For a sweet, fun and heartwarming read, don't miss Twins Under the Christmas Tree by Marin Thomas.
Book Info:

 HJ Recommends
October 1st 2013 by Harlequin American Romance (Book 1469)
Cowboy Up, Daddy!
Conway Cash is finally ready to settle down, and he has the perfect woman in his sights. The only thing is, he's dead set against being a father—and Isi Lopez has twin four-year-old boys. When he finds himself roped into babysitting for them, life starts getting complicated!
Kids or no, Conway soon discovers he and Isi make a great couple. And hanging around with her kids isn't so bad—that is, until they beg him to be their new daddy. The pressure is piling up for this formerly footloose cowboy…but with some luck, and a whole lot of Christmas spirit, Conway just may find himself in the center of his own ready-made family!