In Two Steps Forward by Graeme Simsion and Anne Buist, A year ago Zoe, an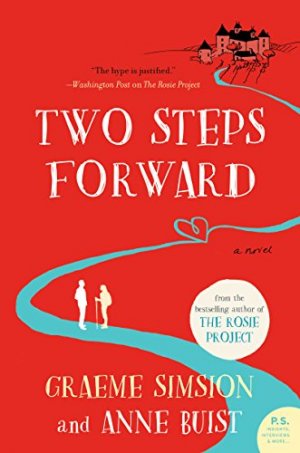 American, would never have seen herself on a three month pilgrimage on the Chemin (aka the Camino) traveling through France and Spain. Then again, back then her husband was still alive and she was an artist, happy enough in her daily life. But the accident that took her husband's life also shed light on problems she hadn't been aware of. Lost in grief and anger over her loss, Zoe makes the impulsive decision to walk the Camino instead of spending time with her friend in France. Her plan was to reflect on her life, her choices, and where she should go from there. What she didn't realize was that the journey would change her in every single way. Including making new friends–and even meeting a man who is struggling with very similar issues.
"So, here we both are in the middle of our lives, starting again. Are we going to be bold or just back to what we were?"
As an engineer, Englishman Martin is used to tweaking designs to improve them. Who knew that his updates to a one-wheeled cart he saw in France would lead to him proving its functionality by walking the Chemin, thus hopefully allowing him to sell the design. Having trained for a marathon previously, Martin figures he'll be fine on the route as long as he packs the right gear. But he didn't account for all the time he'd have alone to think over his divorce and the strained long-distance relationship he has with his teenage daughter. As Martin's path keeps crossing with several of the same people, including Zoe–a woman whom he grows to admire–he has to admit that they've helped him see things he might not have noticed about himself previously. They say the Camino changes everyone. Martin has a feeling that if he can make it to Santiago then he'll have a much better sense of self and might even have a plan for his future.
'I became conscious of how much my anger was clouding everything. Zoe was right. There were things I hadn't dealt with.'
Two Steps Forward followed two people on their incredible three month quest across parts of France and Spain to walk the Chemin which completely changed them, along with how their lives were enhanced by every person they met along the way.
'In the end I believed not just in fate, with all its capriciousness, but in the special power of the Camino. It reminded me that sometimes there are things we cannot do alone.'
Being a fan of The Rosie Project, I was interested in Graeme Simsion's newest book, especially as it was co-written with his wife Anne Buist. And Two Steps Forward was quite the amazing journey for our protagonists–one that I think will be for most readers as well. I will be honest in that it took me a while to become invested in Martin and Zoe and to kind of figure out the flow of the book. (Although it may have just been my hectic schedule, reading this in bits and pieces) Once I was almost halfway through this story, though, something just clicked and I was cheering on Zoe and Martin to finish their trek and to figure out if a relationship might be in the cards for them.
I didn't realize until partway through the book that Graeme and Anne have actually walked the Chemin, aka the Camino, twice in real life. (!!!!) So it was no wonder that they were able to go into incredible detail of the pilgrim route itself, what the trekkers faced mentally and physically, as well as the history of the Chemin. It also made everything Martin and Zoe went through seem real and authentic. I loved that about the story, along with watching them work through their personal challenges, their emotions, and coming out the other side with some newfound wisdom and clarity.
Zoe and Martin were two very interesting people who were at a crossroads after devastating changes in their lives. They started the Chemin for differing reasons: Zoe to deal with her grief after losing her husband, and Martin was testing his new one-wheeled cart on the route, hopefully to sell the design at a profit. They both had emotions to overcome from their past. I liked that this was written in a dual POV, with Graeme having written Martin's chapters and Anne writing Zoe's part. It seemed like there were *a lot* of chapters as some were only a few pages long sometimes. However, the way the story flowed with those alternating POVs, to me, really painted a full picture of how everything truly happened and where Zoe and Martin stood in their tentative relationship over their arduous months of walking.
Graeme Simsion and Anne Buist's writing styles melded together quite well in Two Steps Forward. Graeme's astute, almost methodical writing voice along with Anne's vivid scenery and honest emotions created a balance that readers will be sure to enjoy.

Book Info:

Publication: Published May 1st 2018 | William Morrow Paperbacks |
From the New York Times bestselling author of The Rosie Project comes a story of taking chances and learning to love again as two people, one mourning her husband and the other recovering from divorce, cross paths on the centuries-old Camino pilgrimage from France to Spain.
"The Chemin will change you. It changes everyone…"
The Chemin, also known as the Camino de Santiago, is a centuries-old pilgrim route that ends in Santiago de Compostela in northwest Spain. Every year, thousands of walkers—some devout, many not—follow the route that wends through quaint small villages and along busy highways alike, a journey unlike any other.
Zoe, an artist from California who's still reeling from her husband's sudden death, has impulsively decided to walk the Camino, hoping to find solace and direction. Martin, an engineer from England, is road-testing a cart of his own design…and recovering from a messy divorce. They begin in the same French town, each uncertain of what the future holds. Zoe has anticipated the physical difficulties of her trek, but she is less prepared for other challenges, as strangers and circumstances force her to confront not just recent loss, but long-held beliefs. For Martin, the pilgrimage is a test of his skills and endurance but also, as he and Zoe grow closer, of his willingness to trust others—and himself—again.
Smart and funny, insightful and romantic, Two Steps Forward reveals that the most important journeys we make aren't measured in miles, but in the strength, wisdom, and love found along the way. Fans of The Rosie Project will recognize Graeme Simsion's uniquely quirky and charming writing style.