Swept Away by the Enigmatic Tycoon by Rosanna Battigelli: Can one learn to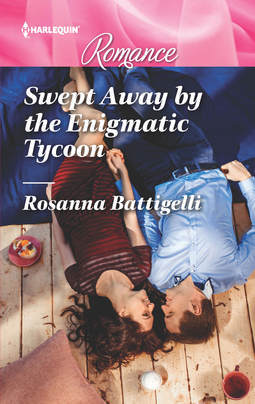 trust again, even when secrets are revealed?
Justine Winter wasn't sure. She had come home to heal her heart, to learn to move forward and to figure out where she wanted to be. What she did know was that home was home, safe, comforting and wonderful. When approached with an offer to sell? Well why bother?
Casson Forrester was used to getting what he wanted. After all everything had a price and he had an account that could take most of them. So when he meets a woman who actually doesn't seem to count the zeros he isn't really sure what he is going to do.
Can Casson and Justine work together to find a compromise? Or will the secrets revealed be the driving wedge?
I'm not sure what to say about this one. It had some amazingly good work. The background story of Casson was so well written and may just break your heart. Justine it doesn't seem like there was much of a connection with the author.
The overall plot was good but the ending was rushed and there were a couple of almost skipped sections that make me wonder if editing took them out to make a page count. This one just didn't sit well or happily with me.
Book Info:

Publication: Expected publication: May 8th 2018 | Harlequin Romance |
Running from heartache…
only to find a second chance where she least expects it?
There's no place like home for brokenhearted Justine Winter. Until her sanctuary comes under threat from property developer Casson Forrester. Determined not to let anyone take advantage of her again, Justine goes head-to-head with the formidable millionaire but must resist his charms! For the man she glimpses beneath the brooding exterior could be far more of a threat—to her heart…