Undercover in the CEO's Bed by Coleen Kwan is a delightful read. It is the story about CEO and billionaire Lex Rochester and Jacinta Greene, an IT security consultant. Lex and Jacinta used to be lovers. Lex is in a bit a of a pickle. He recently discovered that one of his top-level employees is leaking information to the competition, which is costing his firm millions of dollars in future business. Since he trusts no one and believes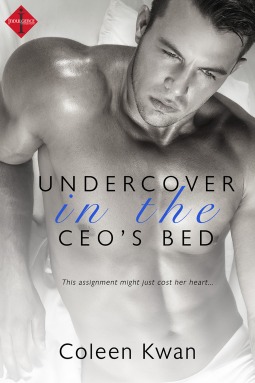 the betrayer to be a family member, he seeks out Jacinta's expertise.
To say the least, Jacinta is shocked to the bone when Lex asks for her assistance. Their break-up was less than amicable, more like an argument gone amuck. They haven't had any contact in over ten months when Lex just shows up out of the blue, on Jacinta's train ride home from work. Lex charmingly convinces Jacinta to help him and also pretend that they are back together, in order for her to be able to come and go without raising any suspicions. She agrees with great reluctance, however, their agreement stipulates that Lex gets her brother Kevin a job in exchange for her services. At few years ago Kevin worked as an intern for Lex's company, but he was fired for computer hacking. Lex does not want Kevin back at his company, but his need for confidentiality and privacy supersedes any rational thinking.
Lex and Jacinta still have some residual feelings for each other, which float to the surface as they begin to spend time together. Their sexual chemistry was, and is, hot, steamy and sensual. They can't seem to keep their hands off of each other and they have successfully turned kissing into an art form. They both believe that their lustful encounters are without emotion or feeling, yet they miss each other desperately when they are a part. Their working relationship has evolved into much, much more.
Saying any more about the story will spoil the ending, so you will just have to read the book to find out how it turns out.
I liked this book. Ms. Kwan is a good storyteller and I love how she describes and presents her characters. I was able to connect with both Lex and Jacinta as individuals, and as well as a couple. Ms. Kwan creates enjoyable primary and secondary characters that truly endear themselves to the reader. If you are looking for a well written, steamy read with an exciting and somewhat mysterious plot, check out this book.
Book Info:

Publication: May 26th 2014 by Entangled Publishing, LLC – Indulgence
Billionaire Lex Rochester has a problem. Someone is trying to sabotage the family company, but the investigation needs to be highly discreet because Lex suspects it's one of his own relatives. His solution—hire IT security specialist Jacinta Greene, who also happens to be his ex-girlfriend. With Jacinta posing as his newly reconciled girlfriend, the other Rochesters won't suspect they're being monitored.
The last thing Jacinta wants is to see Lex again. Their breakup still tortures her, but she'll do just about anything to help her kid brother, even pretend to reunite with Lex. But the more time she spends with Lex, the more she realizes she's never gotten over him. Which is bad news, because she and Lex are fatally incompatible.
The fire that still burns between them is as hot and irresistible as ever. Can Jacinta remember what's real and what's fake, or will she be hurt by Lex all over again?