In Undone (Chicago Rebels #3) By You by Kate Meader, Signing on with the Chicago Rebels as their new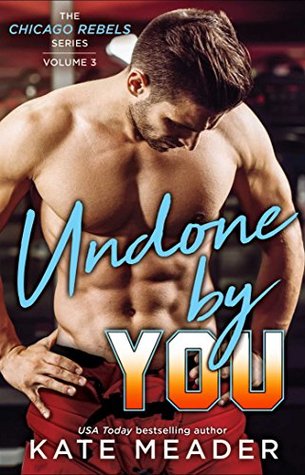 general manager fulfills a lifelong goal for Dante Moretti. One he wasn't sure he'd ever reach, especially after he came out almost a decade ago. It's been a long haul but he's finally where he wants to be professionally–even if his personal life is looking bleak. But that all changes when one of the Rebels' star players makes a move on Dante. It just so happens he's noticed the tension between himself and Cade "Alamo" Burnett already, with the lovable jokester appearing in Dante's own personal fantasies. Reality proves to be even better than his imagination, although he knows they're walking a fine line. As Cade's boss, he could lose his job over their liaison. And if they're found in a compromising position, well then Cade's life will change completely, being outed in a very public manner. But can Dante resist falling in love with the hunky Texan who means everything to him?
"I won't tell anyone, Dante. I know this is risky for you, but I'll protect this. I'll protect us."
Dante's heart squeezed. "I'm supposed to be protecting you–"
Cade cut him off with a kiss. "We're both consenting adults. No one is being taken advantage of, okay?"
He might be the lead defenseman for the Chicago Rebels hockey team, but Cade comes from the land of football–and manly men. And as such, he's never been able to reveal to his own father that he's gay, having to hide his true self from everyone around him. His hero as a teen was Dante Moretti, a tough-as-nails hockey player dubbed the Beast who had the courage to come out and still hang onto his career. So to be able to play on a team Dante is managing? It's the stuff of dreams for Cade. But he's knocked off of his skates when he realizes the crush he's always had on Dante is just as true in real life when they meet. Talk about sparks flying! It probably isn't wise to make a play for his boss, but Cade wouldn't be able to live with himself if he didn't at least try. After some steamy nights and even more wonderful quiet moments together, he knows it's time to face the fire, admit who he is publicly, and try to make Dante his forever.
"Honestly, Cade? You're impossible to resist."
Said with a simple frankness that curled inside Cade's chest, Dante was making an exception to his rules, telling Cade he was worthy of this ethical infraction. That Cade was just plain *worthy*.
Sexy as sin yet sweet as could be, Undone by You wasn't your typical M/M romance novella. Or sports romance for that matter. Nope. Instead of over the top BDSM (not that there's anything wrong with that!) this was emotionally charged with characters so real they leapt off the pages.
'He still loved how the man was approaching this. As if the journey was as worthwhile as the destination. As if Cade was as valuable as the pleasure they were both desperate to find.'
Undone by You had a lot of great elements to it. Of course there was the ongoing drama of the Chicago Rebels being under new ownership and their bid for the playoffs. There was the team dynamics with all the interesting stuff happening to the players both on and off the ice. And then there was Dante and Cade. Their relationship was what really took center stage–or center ice–as it rightly should have. They had a lot of reasons for the tension between them, and I'm not just talking about their smoking hot attraction. Dante was Cade's boss so there was the whole ethical dilemma. There was about twelve years between them in age, so basically a May-December romance. AND Dante had officially come out almost a decade ago while nearly no one knew Cade was gay yet. Talk about a lot for these two to deal with!
I have to say I truly loved how Kate Meader handled the relationship between goofball Cade and super suave Dante. It helped that I liked them both individually and could totally see them together as a couple. But the way she poured on the emotion and built the connection between them was pure magic. Yes, there was yummy dirty talk and some fairly explicit love scenes. However it was the tenderness between Dante and Cade, the genuine feelings they had that was completely swoon-worthy. My heart broke for both fellas over the negativity and even disrespect they'd dealt with over their true nature–especially when it came to family treating them poorly. But I adored how in addition to Dante being Cade's lover, he was also a sounding board and a comforting voice of reason when Cade was debating how to handle the truth of his preferences and how that would affect his career, family and friends.
Sincere emotions paired with hot romance is always a wonderful combination and I think something that Kate Meader excels at. (Dear Lord was it hot!) I have a feeling fans will *love* Dante and Cade's romance and especially their well-earned HEA.

Book Info:

Publication: March 5th 2018 | Pocket Star | Chicago Rebels #3
USA TODAY bestselling author Kate Meader brings her signature "steamy sex scenes, colorful characters, and riveting dialogue" (RT Book Reviews) to this novella in the Chicago Rebels series, following the general manager of the Rebels as he scores with one of his players off the ice.
Dante Moretti has just landed his dream job: GM of the Chicago Rebels. And screw the haters who think there should be an asterisk next to his name because he's the first out managing executive in pro hockey. He's earned the right to be here and nothing will topple him off that perch—especially not an incredibly inconvenient attraction to his star defenseman, Cade "Alamo" Burnett. Cade has always been careful to keep his own desires on the down low, but his hot Italian boss proves to be a temptation he can't resist. Sure, they both have so much to lose, but no one will ever know…
As Dante and Cade's taboo affair heats up off the ice and their relationship gets more and more intense, they'll have to decide: is love worth risking their careers? Or is this romance destined to be forever benched?