Unexpectedly Pregnant by Joss Wood is the latest romance in her Ballantyne family series. The family is involved in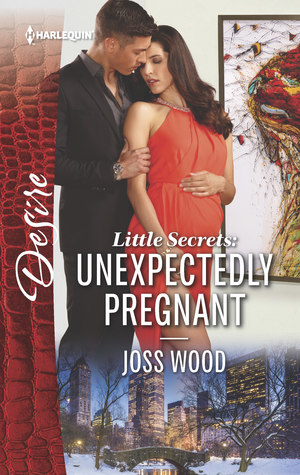 the rare jewel business, both in acquisition and selling of unique family designed pieces. It's Sage Ballantyne's turn to find love in this sexy reunion romance.
As a young girl the loss of Sage's parents dealt a lifetime blow to her belief in happy endings. She's always found it better to keep herself emotionally contained than to fall in love, though she does have a close relationship with her siblings who all look out for each other. A few years earlier she had a steamy fling with equally emotionally distant and successful artist Tyce Latimore. Yet even though they'd kept their distance from each other since that time, she'd still been following his career. At an art show, they reconnect, have a one night stand, and unlike the first time around, the consequences of this one are more than just a bruised heart and ego – she's pregnant!
Tyce has conflicted feelings when it comes to the Ballantynes. The siblings had all been adopted by an uncle, recently deceased. And it just so happens that his sister Lachlyn is the illegitimate daughter of that uncle, though they are unaware of this fact. As a young man, Tyce had dealt with a mother who suffered from depression and only on her death had he and Lachlyn learned who her father was. While Tyce initially was interested in Sage as a means of finding out more about the Ballantyne family, he quickly became enamored with her– a fact that had him shutting down their relationship before it became more. But he's never forgotten her or their sizzling attraction which leads to the predicament they are now in.
Sage and Tyce have plenty of baggage to work through if they want to have a successful partnership to bring up their baby together. There's no doubt that they have the chemistry to make their relationship sizzle. But are they willing to risk creating an emotional bond too?
I've enjoyed all of the Ballantyne sibling books to date, including the interesting family business in which they are all involved. Sage is one of the jewelry designers, an artist of equal caliber to Tyce and while these two creative types can appreciate the skill and work ethic needed to be successful, they are also stubborn and self protective. Tyce makes millions with his art but it's been done more out of necessity to support him and his sister than in a belief in his talent. His own upbringing has taught him that it's best to keep his emotions contained, though he is able to express them in his art. Since Sage thinks the same way, it's hard for these two to open up – until the idea of a baby forces them to recalibrate what they each want for their future.
There are some sexy scenes between Tyce and Sage as they work through their issues, and a fair amount of ups and downs. Sometimes it seemed like they'd never get to their happy ending! They each make mistakes, and have to own up to them. The drama of Lachlyn's place in the Ballantyne family is an important plot line, bringing out some strong emotions in all of the siblings. Sage and Tyce eventually do open up their hearts to let love in, and the result is a satisfying ending and another emotional and sexy romance from Joss Wood. I'm looking forward to reading Lachlyn's story next!

Book Info:

Publication: 01 Jan 2018 | Harlequin Desire | Little Secrets | The Ballantynes
Will a baby on the way reunite ex-lovers?
Three years after Tyce Latimore let Sage Ballantyne walk away, they end up back where they started—in bed. Now she's carrying his child…and there's no way he's losing her again.
Tyce is tempting. Dangerous. Addictive. Sage left him for all the right reasons. But one passionate mistake could reunite her with the world-famous artist for all the wrong ones. A baby on the way ups the ante. So does an explosive secret that threatens their two families and could shatter Sage and Tyce's precarious reunion…