Headmaster by Tara Sue Me: Mariela watched as her best friend started dating the man she wanted and then grieved when she lost her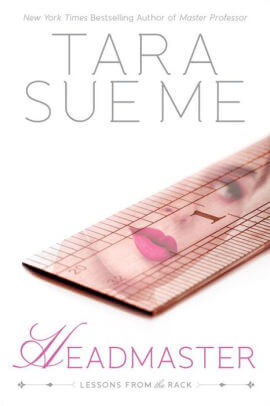 best friend way too young. It's been a few years, but she's still in love with Lennox and he doesn't seem to know she's interested in more than friendship.
Lennox started a training academy for those interested in Dominance and submission. He was a much sought after Dom, but he's stayed away from practicing the lifestyle while ensuring others have the right training. He's smart, sexy, wealthy, and drowning in guilt.
Mariela loves being the dance instructor at the RACK, but being so close and yet so far from Lennox is painful. She wants to help him move past the guilt and reclaim his life, but he stubbornly shuts her out. They have incredible chemistry, if only he could let himself go.
"Marie, we can't."
"I think we just did."
He moved her off his lap and onto her feet. "Then we can't do it again."
"Tell me why."
Mariely challenges and tempts Lennox like no other sub. He would love to pursue a relationship with her and one incredible night shows just how well suited they are. After an unfortunate turn of events, they have to re-evaluate the past, present, and how much they want a chance at a future together.
"What the hell is your problem?"
"Right now my problem is an obnoxious submissive who won't mind her own damn business."
She took a deep breath. "Mind my own business, how about you stay around to finish a conversation."
Headmaster is fueled by tension, lust, longing, and misunderstandings. Tara Sue Me brings chemistry and heat with strong, feisty, female characters. Ms. Sue Me provides interesting insights into the past while developing Marie and Lennox. Headmaster can be read as a standalone in this series. Fans of Roni Loren and Kendall Ryan will enjoy Headmaster.
Book Info:

Publication: January 16th 2018 | Berkley | Lessons From the Rack #2
The New York Times bestselling author of the Submissive novels delivers a scintillating new erotic romance, where two instructors redefine the phrase "teacher's pet" . . . .
Lennox MacLure, owner of the RACK Academy, has sworn off the Dominant/submissive lifestyle. Years ago, his submissive, Winnie, died in a car accident following a heated argument for which he blames himself. Guilt-ridden and emotionally closed off, Lennox sees the academy as both his punishment and penance for her death.
Mariela, a dance instructor and a natural submissive, was Winnie's best friend and longs to help Lennox move past his grief. She's accepted that he will never see her as anything more than a friend, but she still wants to help him acknowledge what he needs. Mariela comes up with a plan of seduction, guaranteed to unleash the Dominant he's willfully buried—but the passion they unleash could prove to be stronger than they are ready to handle.