In Unforgettable You (Silver Springs #5) by Brenda Novak, Maddox Richardson never thought that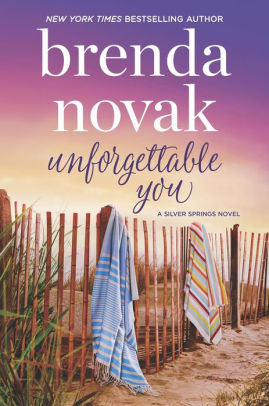 after his less than auspicious beginnings in life on the streets of L.A. that he'd be in a position to give back to the school where he started to turn his life around. New Horizons in Silver Springs, California, is branching out with a new girls' school. And with his position as principal, Maddox will once again be in the town where, yes, one of the worst nights of his life happened, but where he ultimately found a reason to become the man he is today. If only he could reconnect with the woman he loved, Jada Brooks. Even knowing that she's also back in town, sadly after losing her father recently, Maddox knows he needs to stay away. Their complicated past could only lead to hurting themselves and their families. But he's not sure he's strong enough to stay away from the woman he can"t forget.
"Of all the bad things that have happened in my life, losing you was the worst," he told her.
Jada and her twelve-year-old daughter Maya moving to Silver Springs after her divorce was a gamble. Since an awful night thirteen years ago when her life was forever altered, she's tried to prove her loyalty and love for her parents and brother. But with no other options, Jada is making the best of the situation. Even if it means having to listen to her mother's endless putdowns. At least Maya is thriving. It's when Jada realizes that Maddox Richardson is also back in town that she thinks moving in with her family might not have been a good idea. Particularly because Maddox doesn't know of his ties to Maya. And Jada doesn't know if telling him is the right thing to do or if it will cause more drama, when she's already close to losing her heart to him all over again.
"Just one night."
He didn't seem to like that she was putting strict limitations on their contact, but as far as she was concerned, something was better than nothing. This was the only way they could be together. "That's all I have to give."
"Then I'd better make it count," he said…
A deeply emotional second chance romance, Unforgettable You was a small town story where the reunion of two people brought about a chance for healing and redemption, allowing two families to finally come to terms with one devastating night a dozen years ago.
"A love like what I believe he feels for you doesn't come around often. And although your mother would disagree with me, it's not easy to find a man as worthy as Maddox. I believe he's worth the risk. The question is, do you?"
I just know when I sit down with a Brenda Novak book that I'm going to be put through the ringer emotionally–but I also know that it will be so worth it in the end. And Unforgettable You did exactly that. I was so wrapped up in Maddox and Jada's story: their history together, the fateful night that changed so many lives, the daughter he didn't know he had, both of them struggling to make their own way and do right by their families. This type of storyline is what I think Novak truly excels at. It was complicated, heartbreaking many times over, but it was ultimately relatable and had such a powerful theme of redemption that it was hard not to cheer on each character in their individual struggles.
Jada and Maddox were certainly dynamic people on their own. But when they met again after more than a decade, I loved that the attraction–and their intense bond–was still so prevalent. They both had taken the tough breaks life had dealt them and moved forward with grace and courage. I thought Jada was put in a tenuous position by her mother and she handled things much better than I would have in her shoes. True…she didn't come clean about her daughter Maya right away when she met back up with Maddox. But given her home life and the drama surrounding Maddox and his brother Tobias, I could see Jada's resistance to add to it all.
Maddox was equally thoughtful and kind, which is why I thought he and Jada were a lovely couple. They had so much working against them, though. Something Maddox had learned to overcome his whole life after having a horrible childhood. But it was great to see him doing so well in his career and how steadfast a man Maddox had become. His willingness to do the right thing, even if it was the toughest choice, to me was reminiscent of Phoenix in Novak's popular This Heart of Mine novel (part of her Whiskey Creek series). Maddox wasn't the monster Jada's mother made him out to be, and watching him prove that to the whole town was absolutely heartening and will make a reader sigh happily.
Brenda Novak is one of my go-to authors for genuine characterization, gut-wrenching, honest storylines, and truly heartfelt HEAs. Unforgettable You was a shining example of why fans are addicted to her stellar work.
Book Info:

Publication: February 26th 2019 | MIRA | Silver Springs #5
New York Times bestselling author Brenda Novak returns to Silver Springs, where no past mistake is so big the heart can't find a way to fix it.
Jada Brooks couldn't have known how her life would change when she fell for bad boy Maddox Richardson back in high school. She couldn't have known his troubled brother would leave hers forever crippled. Or that she'd be forced to shun Maddox completely–only to discover she was carrying his child.
Although Maddox was devastated by the events that transpired that fateful night, losing Jada was the worst of it. He's back in Silver Springs, ready to make amends and provide the kind of youth outreach that once saved him. If he'd known Jada was in town, too, he would never have come.
Jada has returned to Silver Springs to be with family after her father's death. But when she sees Maddox, every tough decision she's made concerning their now twelve-year-old daughter begins to haunt her. Falling for him again is so tempting, but not only does she stand to alienate her family–if he finds out about Maya, she could lose what matters most.