In Unlocking the Italian Doc's Heart by Kate Hardy, after hearing that his daughter isn't his by his ex-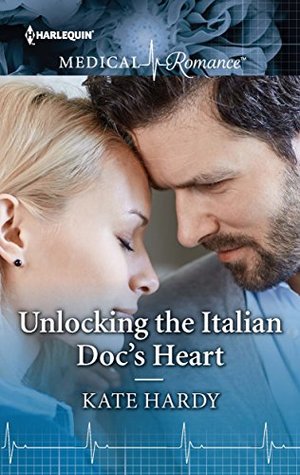 wife, Dr. Lorenzo Conti has been trying to move forward with his life and get over the heartbreak of such devastating news. So, when he meets his new colleague, Jenna, he finds himself interested in a woman for the first time since his ex broke his heart. Will Jenna be able to heal Lorenzo's heart or will he lose his chance at forever love with his Ms. Right?
"Would you be good at general knowledge by any chance?"
"I'm reasonable," he said.
"You're polite, so I'm guessing you're understating your talents because you don't want to boast about how good you are. Right. That settles it. I'm co-opting you onto our departmental quiz team, too."
"You," he said, "are scary. All that sweet, sweet smile, baby-blue eyes and butter-wouldn't-melt expression – but you've got everyone organized and agreeing to things before they even have time to blink, haven't you?"
"Jenna the hustler – that's me," she said, looking totally unrepentant.
This was an emotional and riveting tale of lose, finding it within oneself to forgive, being given a second chance at happy ever after and I loved the way it started because the chemistry between this couple was instant and strong. However, it was the compelling dialogue and the hero and heroine's growing relationship that had me reading quickly, determined to discover whether the Lorenzo and Jenna would give each other a chance, especially since the hero has been hurt by his previous relationship badly enough that it's hard for him to even think about putting his trust in another woman.
With the main characters, I absolutely loved the hero. He's been through so much and I couldn't help but sympathize with him because his ex was a real piece of work and it's understandable why he finds it hard to trust. Yet, in saying that, I liked that he gave the heroine a chance because he deserves a chance to heal and be happy again. Moreover, he's confident, hard-working and I liked how easily he won over everyone – no matter whether they were patients or others that he worked with. Yet, what I liked most of all about both the main characters is the close relationships they share with their families. Let's just say – 'let the interrogations begin'.
"Has anyone ever told you how nice you are?"
He laughed. "You're nice, too. You're a hustler and you're bossy – but there's a sweetness about you. Not cloying and sickly, but lovely. You make the world feel as if it's certainly full of sunshine."
"That's how you make me feel, too," she said.
"That," he said, "sounds almost like a declaration of intent."
While the heroine, she's a really good person and I could understand why she doesn't want a relationship after how her ex treated her. He was a total jerk and I liked that she was altruistic because she dodged a bullet in choosing her family over him. I also liked that Lorenzo proved that he's nothing like her ex and that she can trust him. Yet, what I liked most of all about the heroine is that she was resilient and courageous in being able to do what she did for her twin sister in the past. Really, she's the best sister, which any woman would be lucky to have.
Overall, Ms. Hardy has delivered a very good read in this book where the ending had me loving how the hero finally gets closure from his past and move forward to achieve his happy ever after with the heroine. Certainly, his words to the heroine prove how determined he is to win her back after how things went awry in their relationship. However, it was the epilogue that wrapped this story up nicely because family is important and doesn't have to be someone you're related to in order to matter to the hero and heroine. I would recommend Unlocking the Italian Doc's Heart by Kate Hardy, if you enjoy second chance romances or books by authors Carol Marinelli, Annie O'Neil, Tina Beckett and Louisa Heaton.
Book Info:

Publication: June 1st, 2018 | Harlequin Medical |
His heart was broken…
Will she be the one to heal it?
Dr. Lorenzo Conti is devastated by his ex's revelation that his beloved daughter isn't his, and the pain of losing her from his life. Yet his new colleague, bubbly, generous pediatrician Jenna, incredibly connects with his brooding heart. Could she help him move on to a new life and a new family? Maybe—if he can learn to trust again…