Unmasked by Stefanie London is part of Harlequin's new Dare imprint, and the first in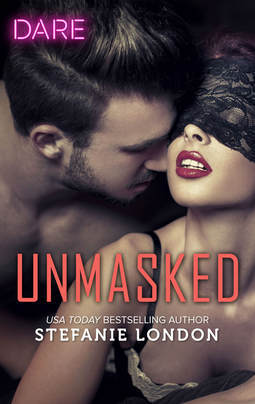 her Melbourne After Dark series. It's set in Australia, and this one is a best friend's sibling romance with a woman determined to catch the interest of her longtime crush, even if it's in disguise.
Lainey Kline has had a crush on her best friend Corinna's brother Damian McKnight for years, but he's never shown any sign of returning those feelings. Desperate for a change, she's planning a move to London in a few weeks for a new career opportunity. When she finds out that Damian will be attending a masquerade ball, and that her friend Corinna plans to sneak in to do some spying of her own, she decides its her best bet to seduce Damian, even if he'll never know who she really is.
Damian is captivated by the woman in the mask who spends a few hours with him, then vanishes. Only she's left a compact behind and he soon finds out his mystery woman is none other than Lainey, his sister's longtime friend. Their time together was smoldering hot, and he can't forget about it. And, he needs a favor, a fake fiancee to help persuade a potential business partner that his playboy days are behind him. He's been burned before in the love department so he's not interested in anything that will last too long, which is perfect since Lainey is leaving. But will he be able to let her go so easily?
I'm a big fan of this particular type of story, and Stefanie London is an author I've quite enjoyed in the past so I was looking forward to this romance, and it does not disappoint! I loved that Lainey was willing to go after the man she wanted and seduce him, instead of the more typical reverse scenario. I also appreciated that the secret of her identity wasn't kept for too long. Once Damian finds out that Lainey is his mystery woman he sees her in a whole new light. As they play the part of lovers to help his business deal, they also have trouble keeping their hands off each other and share some sexy scenes.
After losing his last girlfriend to his business partner, Damian's been focused on revenge for so long that he almost misses his chance to have something real with Lainey. Fortunately he comes to his senses and they get their happy ending. I enjoyed the friendship between the three friends, and the development of the romance between Damian and Lainey. It's a good start to a new series, and I look forward to reading more!

Book Info:

Publication: April 01, 2018 | Harlequin Dare | Melbourne After Dark #1
Cinderella is about to get wicked…
But can a naughty fantasy have a happily-ever-after?
Lainey Kline has one goal before she leaves Melbourne forever: transform herself into a sexy siren, sneak into the season's most glamorous masquerade ball and seduce Damian McKnight. Only there's a teeny little problem—one deliciously hot night isn't nearly enough. Now Lainey wants more. But while getting naked is one thing, taking off their masks is quite another…