Untamed by Caitlin Crews is the third story in her Hotel Temptation series. It's about a set of half-siblings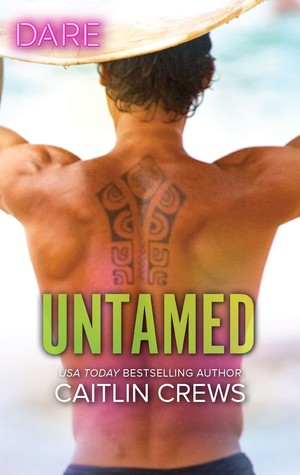 who share the same father, a man they never knew who bequeathed them each property in his will. This time it's Hawaiian born Jason Kaoki and his private Pacific island that are too much for property developer Lucinda Graves to resist.
Lucinda is determined to be 'the one' – the one who can convince reclusive former football star and owner of this beautiful tropical island she's just arrived on to consider developing a luxury resort with her hotel consortium. She knows he's already rejected the last few suited gentleman who showed up without an invitation but she's hoping she'll be able to convince him that her company is the best bet. She needs this sale to prove herself to her bosses and she won't take no for an answer.
Jason isn't sure what to think of the beautiful pale skinned redhead in her black funereal suit who has broken his island solitude but he knows he'd like to get her into bed, if she's willing. First he'll have to get her to let down those tight curls and dress for island weather though. He's got no plans or desire to develop anything on his hideaway. Two strong willed people, under the sultry sun with a balmy breeze may not be able to resist temptation. But can they strike a better deal than a simple business acquisition?
I've been enjoying this steamy series by Caitlin Crews and Untamed is another easy, enjoyable read! Jason is half Hawaiian on his mother's side and takes after her in looks and attitude but when she'd accused him of following in his playboy father's ways he'd taken to hiding out on his newly inherited island, not wanting to have anything in common with his reprobate father. Developing a friendship of sorts with his two half brothers Thor and Charlie and half sister Angelique has been the one enjoyable result of finding out he's one of Daniel St. George's sons. Their weekly teleconferences have helped him come to terms with their new relationship. When Lucinda lands on his private island he's intrigued, attracted and ready to sweep her into bed if she'll have him, but that's it. Still, in very short order he finds himself thinking of what ifs, and wondering how easily he'll be able to go back to his peace and quiet without a feisty redhead to challenge him and turn him on.
Lucinda had a challenging upbringing, with a physically abusive alcoholic father and an enabling mother who never took her side. She's fought her way to the top of her profession and getting Jason to agree to work with her company would be a crowning achievement. But under his dark gaze, she tumbles headlong into a heated affair that threatens to disrupt all her plans. There is plenty of sexual tension from their first meeting that culminates in some steamy love scenes and panic for Lucinda when she realizes she might be falling in insta-lust/love with Jason. He's the one willing to go the distance and prove to her that what they have is more than a one night stand. While the story takes place in a very short span of time, there's an epilogue to prove they are getting their happy ever after. It's another entertaining and enjoyable chapter in the Hotel Temptation series!
Book Info:

Publication: Mar 01, 2019 | Harlequin Dare | Hotel Temptation #3
Buttons are made to be undone
One wicked touch at a time…
Self-made businesswoman Lucinda Graves is determined to add a tropical hotel to her company's empire. Devastatingly handsome owner Jason Kaoki is willing to negotiate—but only if Lucinda rises to the challenges he sets! Lucinda passes every test, but as each dare grows hotter and wilder than the last, will she be able to keep her eyes on the prize?