Untamed Passion by Cat Schield is the sixth book in the multi-authored Dynasties: Seven Sins series and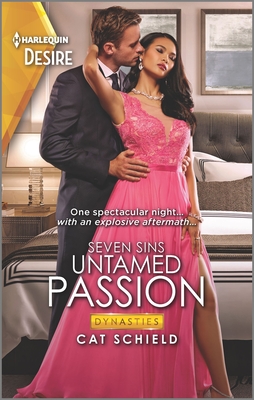 features a sexy one night stand and an 'oops! unexpected pregnancy!' romance.
Oliver Lowell has been paying for his mistakes for years, and frankly he's getting tired of it. Yes, after his father fled from an embezzlement charge that ruined the reputation of Black Crescent Investment Firm and the lives of many of his victims, including his family, Oliver sunk into an abyss of drinking and partying. But those days are behind him now. When one fabulous night spent with Filipina model Sammy Guzman results in her becoming pregnant, he's determined to live up to his obligations and be a better father than his ever was. But can he also convince Sammy that what they shared can be the start of something even better?
I've been enjoying this series and waiting for Oliver to get his turn! Each story can be read as a standalone and while there is a loose story arc throughout the series, the individual stories have complete couple romances and explain enough details about what's been happening for the reader to catch up easily.
Oliver has had his share of troubles but has found himself a good career as a photographer, staying out of the investment firm run by his brother Joshua. He's still close with his brothers, even if they don't always see that he isn't that angry young man he used to be. His night with Sammy and her subsequent pregnancy are a way for him to show everyone that he's ready for real responsibility and commitment.
Sammy is ready to be independent. She's lived with her mother for years, a woman who pushed her into the modeling career for multiple reasons, and who is afraid of what Sammy's unexpected pregnancy will mean. Oliver is wealthy, handsome, and a perfect catch really – but Sammy has spent so many years under the control of her mother that she doesn't want to trade in being under one thumb for being under another. She is reluctant to accept financial help from Oliver and stands up for herself and her independence, which Oliver admires. Their first night together was a sexy affair neither forgot, and now that she's pregnant and going to be in his life more permanently for the sake of the baby, it's easy to keep succumbing to their attraction.
Oliver has to deal with family issues when his father, thought dead, turns out to be alive and gets arrested and put into jail. Sammy is willing to listen to him and offer him advice on how to deal with that, understanding how it is to have a complicated relationship with a parent. This helps them bond, and eventually they are able to figure out how to make their individual wants and desires coalesce into a meaningful and long lasting relationship. Their happy ending is very satisfying, and I'm looking forward to the conclusion of this series!

Book Info:
Maria Rose| 4 Stars | HJ Recommends | No |
Publication: Oct 01, 2020 | Harlequin | Dynasties: Seven Sins #6
One spectacular night… with an explosive aftermath!
Desire as volatile as theirs has consequences that could last a lifetime…
When a single rapturous night with Sammi Guzman leaves the intoxicating model pregnant, photographer Oliver Lowell is determined to embrace his responsibilities. But his wrath over his father's numerous betrayals has haunted him for years and leaves Oliver feeling ill equipped for parenthood. Passion has never been his and Sammi's problem, but will this black sheep tame his demons for good?