In Rifts and Refrains (Hush Note #2)by Devney Perry, Quinn Montgomery is one-third of the award-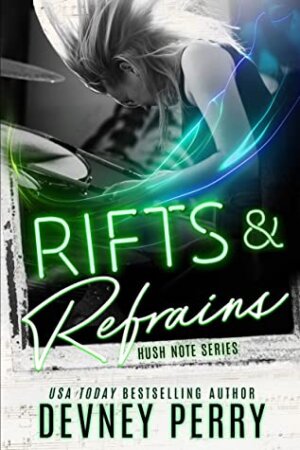 winning rock band Hush Note along with her two best friends, Jonas and Nixon. They've been there for each other through every up and down of their demanding career and have now reached the heights of fame. But life comes crashing in on Quinn when a beloved family member back in Montana passes away unexpectedly and it means going home and facing not only her family she hasn't seen in a decade, but her first love, Graham Hayes. Things didn't end well between them. Or with Quinn's family, to be honest. But with the reminder that life is too short, she's going to do her level best to make things right.
'This man had my heart. Completely. He'd had it in his hold since I was sixteen. How could I have doubted that?'
Single dad Graham has two main things he focuses on in his life to keep going: his seven-year-old son Colin, and his construction business with his best friend. Even though that keeps him plenty busy, he still can't get random thoughts of Quinn, his high school love, out of his head. When Graham hears that she's making the trip home for a funeral, he plans to stay away from the beautiful drummer at any cost. But somehow they're thrown together over and over until it's either talk about their past and put it to rest or let things stay awkward between them forever. Graham can't deny he still wishes he and Quinn had a shot at seeing if they could make things work. But if all he has is the week she's home, he'll have to make the best of it.
'Quinn and I had a week. She could hang with her family during the day. Chill with Colin in the evening. But at night until morning, she was mine.'
Devney Perry never ceases to amaze me. And her dynamic contribution to the Hush Note trilogy, Rifts and Refrains, truly hit all my sweet spots, all in one story: a second chance, single dad, rock star romance, some family tension–and it even had a small town feel to it.
'Maybe our melody hadn't come easily. There's been times when our rhythm has been out of sync. None of it mattered.
Because our beauty was in the refrain.'
I am absolutely in love with Quinn and Graham–and how perfect they were for each other. So much so that I hated to put this book down and of course I was sad to see it end. It was a rather epic story as you can tell, being a second chance romance between former high school sweethearts, whose reunion was basically a decade in the making. It was sadly the loss of a beloved family member that took Quinn back to Montana. And it happened to be the person who kept her somewhat in the loop about the goings on in her hometown. So while Quinn and Graham both knew snippets of each other's lives over the years from her Nan, it was shocking for them to see how much they had each grown as individuals *and* how surprisingly strong their connection still was.
There was a lot of family meddling (which is always fun!) and some rifts between Quinn, her parents, and siblings to mend. I really appreciated that Perry laid their issues all out there over the first several chapters and didn't make it easy for Quinn or her family to make amends. It was real, honest, and so very satisfying with how things played out.
I also loved how Quinn's two other larger-than-life bandmates, Jonas and Nixon, were woven into this storyline. Along with their awesome music. It will definitely make you want to read their books as well–Jonas's is Lies & Lullabies by Sabrina Bowen, Nixon's is Muses & Melodies by Rebecca Yarros.
Second chance romance is my literary catnip and no one writes it better than Devney Perry. This one in particular was a bittersweet, emotionally resounding story with warm touches of sentimentality and the perfectly imperfect characters I crave in Perry's work. A definite must read.
Book Info:

Publication: September 29th 2020 | Pub: Devney Perry LLC | Hush Note #2
From the moment Quinn Montgomery sat behind her first snare and cymbal set, she was destined for fame and glory. As Hush Note's infamous female drummer, she sets the rhythm for the band's chart-toppings hits. When people tap their feet to their music, it's to her pulse.
Quinn is content to live in a world away from her family and the cage of her youth. Her only regret is leaving Graham Hayes behind without a goodbye. No matter how many sold-out stadiums she plays, no matter how many crowds sing her songs, his voice haunts her when the music stops.
When a family tragedy forces her to return home to Montana, she plans to leave the second she's paid her respects. But seeing Graham again turns her life upside down. As a boy, he wasn't able to make her stay. As a man, he might be her future.
If they can mend their rifts and find solace in the refrains.