Untouched Queen by Royal Command by Kelly Hunter: Sera has followed in her mother's footsteps by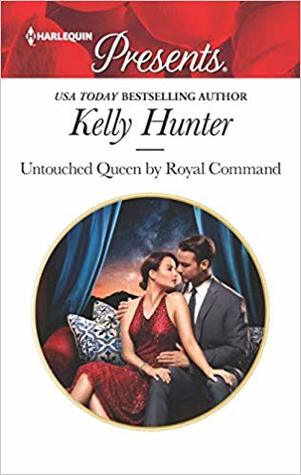 becoming a courtesan. She's educated, accomplished, observant, intelligent, and graceful. She is also adaptable, resourceful, and very well-connected.
Augustus is a forward-thinking king. He has plans for continuing to move his country and the region forward, while respecting their customs and traditions. He's smart, sexy, commanding, and very contained. He's learned to have an iron self-control and rarely lets anyone in.
Augustus is unpleasantly surprised when he's presented with the last gift he'd ever want: a courtesan. It doesn't help that Sera is beautiful, that he's attracted to her, and that he's forced to grudgingly accept her presence until he finds a wife. He makes it very clear that he wants Sera out and as soon as possible.
'Have you ever had a choice but to serve the monarchy?' she asked, and he glared at her. 'I think not. We are not so different, you and I. You were born into service. In a way, so was I.'
Except that for her it wasn't a lifetime commitment. 'I'm releasing you from your duty. Soon as I can.'
She nodded. 'I'd like that. But at least make use of me first.'
Augustus is stubborn and resistant to Sera's many offers to help him. When he finally gives in and requests her assistance, she carries out her tasks and exceeds all expectations. She provides invaluable assistance, guidance, and insight while being a constant source of temptation. She's nothing like he expected as she challenges him and they have a chemistry neither can ignore.
'Augustus, I will never betray your confidences. Not sexual, emotional or intellectual. You have my word. My oath. That's what you get when you get me. A safe space in which to simply be human.'
'I want to believe you.' He looked away from those earnest grey eyes.
Untouched Queen by Royal Command is an entertaining clash of old world and modern cultures in a royal setting. Kelly Hunter created two very strong-willed characters who clash yet complement each other. Ms. Hunter developed an intriguing world, setting, and secondary characters. Fans of Sandra Marton and Kate Hewitt will enjoy Untouched Queen by Royal Command.
Book Info:

Publication: Expected publication: January 15th 2019 | Harlequin Presents |
He must choose a queen…
But will his desire outweigh his duty?
King Augustus is shocked when his country delivers him a courtesan. The only way to set her free is to marry someone else! But Sera's surprising innocence and undisguised yearning for him is temptation itself, pushing Augustus's legendary self-control to the limits. Because Augustus knows that if he dares give in to his attraction, he won't rest until Sera becomes his queen!
Feel the heat in this tale of innocence and desire!