In The Last Letter by Rebecca Yarros, receiving letters from his best friend's sister, Ella, while serving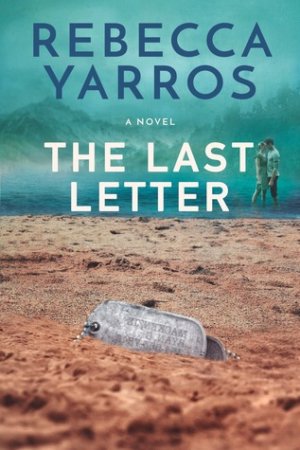 overseas has been Beckett Gentry's saving grace. She's the one person that's kept him grounded and shown him that he is worthy of friendship or love. So, when his best friend is killed in the line of duty and Beckett receives Ryan's last letter that asks him to head to his hometown and look out for Ella, he does just that. However, Ella doesn't trust easily, especially with all that's happened in her life and she can't afford to bring anyone into her children's lives that may not stick around. Still, Beckett isn't one to give up and knows he's going to need to find a way to show her she can trust him. Yet, when Ella discovers Beckett is hiding something from her and she learns the truth of what it is, will she be able to forgive him or will they lose their shot at happy ever after?
"You shouldn't have made that promise," I reiterated. "I don't lie to my kids, and you can't, either. This war she's fighting is overwhelming. It's David versus Goliath."
"Right, and you've armed her with a slingshot and sent her against the giant. I'm telling you that I have a damn tank, and you won't use it! Are you really going to watch her die because you won't gamble that I'm a decent guy? What do you want? Character references? A lie detector? Put me through anything you want, just let me save her."
What an absolutely compelling, emotionally-charged, fast-paced read Ms. Yarros has delivered in this book that tugged at my heart-strings all the way throughout this story with the plot twists, especially the final one that broke my heart and still makes me cry every time I think about it. The way this story started drew me into the story immediately and I loved the letters the hero and heroine traded, as Ella is the light at the end of a dark tunnel for Beckett. He's never had anyone care about him and her letters really help. However, it was from the moment the hero and heroine come face-to-face for the first time where this story really takes off, as Ella doesn't trust easily. Will Beckett be able to win her over? Is he really only there because of her brother's wishes?
As for the dialogue, it was intense due to the main characters back stories; what the heroine's daughter is going through; and what happens towards the end that left me absolutely wrecked, but shows the main characters that life is short and that they can't let their happiness slip by just because of bad decisions. Really, there's always a chance for things to work out for the best if they're willing to try. Furthermore, the main characters were well-developed, strong characters and I loved their growing relationship, as the hero fights to win over the heroine.
Beckett's jaw flexed. "Fate, you think?"
"Fate," I answered. "And maybe it's not true for everyone, but it can be my truth. That's enough for me."
With the heroine, she's suffered enough losses in her life already and doesn't need anymore. Yet, she faces quite the uphill battle throughout this story with everything that happens. Really, she's resilient, courageous and I loved how the hero shows her that she's more than enough and that it's all right to lean on people. I also liked that she took a chance on the hero because she needs him just as much as he needs her since neither have had anyone stay. While the hero, it's understandable why he feels so much over guilt over things that happened while serving his country, but I liked how Ella helps him heal. I also liked the growing bond the hero shares with the heroine's kids. Really, it's adorable, as adorable as the heroine's kids who totally won my heart. For twins, they're so completely different, but have such a special bond.
Overall, Ms Yarros has delivered one of the best stories I've read in 2018 where the chemistry between this couple was off the charts; the romance was tangible and full of heat and passion; and the ending broke my heart, but had me loving how tragedy can bring people together. However, it was the epilogue that wrapped this story up perfectly, as it was so good to discover that something truly wonderful came out of such heartbreak. I would recommend The Last Letter by Rebecca Yarros to all romance readers, especially if you enjoy the brother's best friend trope or books by authors Devney Perry, Melanie Harlow, Jay Crownover and JL Salsbury.
Book Info:

Publication: February 26th, 2019 | Entangled Publishing |
Beckett,
If you're reading this, well, you know the last-letter drill. You made it. I didn't. Get off the guilt train, because I know if there was any chance you could have saved me, you would have.
I need one thing from you: get out of the army and get to Telluride.
My little sister Ella's raising the twins alone. She's too independent and won't accept help easily, but she has lost our grandmother, our parents, and now me. It's too much for anyone to endure. It's not fair.
And here's the kicker: there's something else you don't know that's tearing her family apart. She's going to need help.
So if I'm gone, that means I can't be there for Ella. I can't help them through this. But you can. So I'm begging you, as my best friend, go take care of my sister, my family.
Please don't make her go through it alone.
Ryan