Unwrapping the Innocent's Secret by Caitlin Crews is an intense and sexy Italian set 'secret baby' romance.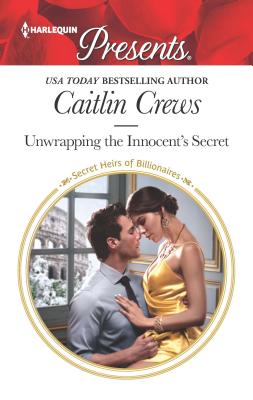 When Pascal Furlani was seriously injured in a car crash in the mountains, it was the nuns of a nearby abbey who saved him, including one novitiate, Cecilia, who nursed him back to health. As he healed, they shared many conversations, and eventually one passionate night together. But in the morning, Pascal was gone, back to Rome and Cecilia was left alone, and pregnant.
Six years later, Pascal is a wealthy but lonely businessman, still haunted by his days at the abbey, and his memories of Cecilia. In an effort to banish those thoughts, he seeks her out to come to terms with what happened during those dark days. To his surprise and shock, he discovers that she has a son – his son. As a young man who had been abandoned by his own father, there is no way Pascal will leave without Dante, and he's got the perfect solution to keep them together – marriage. Will this second chance be the one to last a lifetime?
Once again Caitlin Crews has delivered an entertaining and romantic story! Pascal has scars, both physical and emotional from his accident and his upbringing. After he and Cecilia shared their night together, there were reasons that he left abruptly that Cecilia only finds out upon his return. Being unwed and pregnant caused her to give up her dreams of becoming a nun and while she was supported by the community, she nevertheless had felt bitterness at Pascal's abandonment of her, though she had tried to get news to him of his son without success. It's no surprise that they clash when they see each other again, with some intense and dramatic scenes as they adjust to the new situation.
The sexual tension between them builds as the story progresses, finally culminating in a sexy and intimate scene after their marriage when Cecilia and Dante have moved in with Pascal in Rome. It's clear that Pascal loves his son from the start of their father/son relationship and Dante takes all the changes in stride even as the adults struggle with their own emotions. Admitting their true feelings for each other takes time, but makes their devotion to each other complete as they get their happy ending. The story is told as Christmas is approaching, so themes of light in the darkness and the joy of the season are prominent. I loved the setting, the small mountainous town in the Italian countryside and the bustle of Rome. It's a very enjoyable character driven romance.

Book Info:

Publication: Oct 15, 2019 | Harlequin Presents | Secret Heirs of Billionaires
Their desire haunts him…
Will her revelation reunite them?
Billionaire Pascal prides himself on his rigid control. So it infuriates him beyond belief that he can't forget Cecilia, the sweet and innocent woman who saved his life…or the forbidden passion they shared. This Christmas, he's determined to forget her—until they suddenly come face-to-face!
Seeing Pascal again blindsides Cecilia. She gave him more than her innocence during their explosive encounter—she gave him a piece of her heart. Their still-searing chemistry is startling! As is Cecilia's stunning baby secret…