Up by Five (Counting on Love #5) by Erin Nicholas is a really good book. I was fortunate to read the first four books in this terrific series and book five is equally as engaging as the first four. I stayed up way past midnight devouring Up by Five, finally succumbing to sleep in the early morning hours.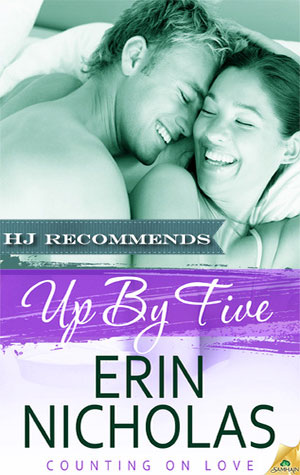 Each book tells the story of one of the five adult Dixon children and this time Conner, the oldest sibling and only brother, is in the hot seat. Conner automatically stepped-up and became the family's patriarch at the tender age of seventeen when their father passed away. So as a result, the Dixon's are an extremely close-knit family that constantly look out for one another. Now that his four sister's are in committed, loving relationships, Conner has the time to dote on them, instead of being constantly concerned about their well-being and happiness.
Conner is an excellent paramedic and commands his own crew. He is also single, good-looking and a very talented amateur football player. He is an all around good guy, in addition to being a pseudo local celebrity and lover of all woman. Although he is a womanizer, he ensures that every woman he temporarily hooks up with feels valued, special and happy. Conner fully enjoys all the attention, flirting and ogling. Unfortunately, has never been in a committed relationship for fear of rejection. Believe it or not, Conner is a pretty level-headed guy, because his job, friends and sisters keep him balanced.
Fellow paramedic Gabby Evans has worked with Conner for about two years. She and the rest of the crew work like a well oiled machine and during their off hours even spend some time together. When her apartment complex burns down, she saves the lives of many others, before worrying about her own livelihood. She is a smart, gorgeous brunette, with plans to attend medical school in two months. Gabby has lots of family and friends willing to take her in until she can get back on her feet, however, Conner insists that she stays with him. For the first time in two years, Conner sees Gabby as a woman and not just a uniformed coworker.
Time together causes Conner and Gabby to get very close, very quickly. In fact, within the first three days of living together, their desire for each other unleashes. Hot sex on the poker table is so incredible, the table breaks from all the pleasure. They are falling in love. Yet a few obstacles, surprises, and barriers need to hurdled in order for them to have a future together.
Up by Five and the entire Counting on Love series is well-written and entertaining. Ms. Nicholas defines each and every character perfectly, which drives the plot and evolves into a wonderful conclusion. Conner has been a constant throughout the series, so it was nice to finally learn about him intimately and personally. Gabby's independence and personality is a wonderful addition to the storyline. She is someone that I would love to have as a friend. Maybe book six could be about the Dixon family ten years from now, hint, hint.
Book Info:

Publication: April 8th 2014 by Samhain Publishing, Ltd. | (Counting on Love #5)
He's in the middle of the last thing he wanted… and the best thing to ever happen.
Ace paramedic Conner Dixon has sworn to never live with another woman after raising his four younger sisters. They have been giving him gray hair since they lost their father fifteen years ago. Now they're all in love and Conner's ready to retire– from worrying, fixing problems and cleaning up messes.
Of course, when his fellow paramedic, Gabrielle Evans, needs a place to stay after her apartment burns down, Conner can't say no. But it's no problem– Gabby's just one of the guys.
Gabby's penchant for poker and her ability to overhaul a transmission definitely make her different from Conner's usual women. She also has no interest in getting involved with him. Conner's crazy mix of family and friends is the last thing Gabby needs right now. She has her sights set on medical school in the fall and knows success depends on focus and commitment.
But within forty-eight hours of moving in, Gabby's in the middle of a family crisis that could disprove all her I-don't-need-anyone bluster and Conner's in the middle of the last thing he wanted-a girl and all her stuff, all over his stuff. Still, the more she makes herself at home, the more he thinks that's maybe exactly where her stuff should be. For good.