Up Close and Personal by Joanne Rock: There are days when life doesn't just hand you lemons, it pegs you with them.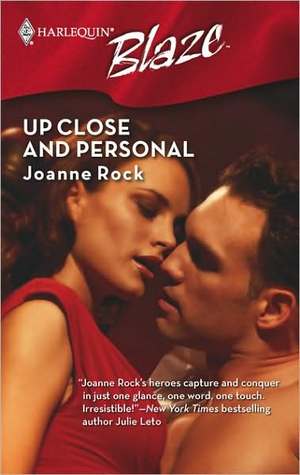 Jessica Winslow knows that feeling and man is she having one of those days. A woman of let's just say an interesting childhood, she is finally finding her feet and building her own business which will give her the stability she is craving. She just really needs this seminar to go well and all will be good. Then in he walked.
Rocco Easton is a former SEAL and knows sometimes things aren't always as they seem. He also knows better than to take things personally. Yet after almost ending up in bed with a woman who he was supposed to be investigating he is really starting to rethink his "rules."
When Rocco and Jessica finally straighten out the case of mistaken identities they realize they might just want to keep knowing each other. The problem? How much time will they have, is there someone after Jessica? Will Rocco's SEAL training be able to keep her safe? Or will life keep on pegging lemons at them both?
Joanne Rock is one of the few authors I've never had a miss with and let me tell you, you won't here either. This is a HOT novel that deals with some pretty serious issues such as childhood rape, repossession, insanity and attempted murder. Somehow even with all of this comes through a story about being oneself, falling in love and realizing that sometimes it's okay to rely on someone else.
The characters have a huge range, the story has a great flow and will keep you on the edge of your seat and yes it is hot. Up Close and Personal is definitely another must read from Ms. Rock.
Book Info:

Published May 1st 2008 by Harlequin Blaze Series , #395
Posing as a live model in a sex class was bound to be hard–but Rocco Easton will, uh, rise to the occasion. The seductive moves of sensuality guru Jessica Winslow are no match for Rocco's SEAL training. He'll expose her scam–even if it means he gets a supercharged sex life out of the deal….But things get weird when his sultry sex maven turns out not to be the con artist he thinks, but the victim of identity theft. Gone are his plans for getting even. Now he's in protector mode. Because the identity thief is getting braver, pretending to be Jessica everywhere. Including his bed!