In The Dangers of Dating a Rebound Vampire (Half-Moon Hollow #3) by Molly Harper, Gigi Scanlon,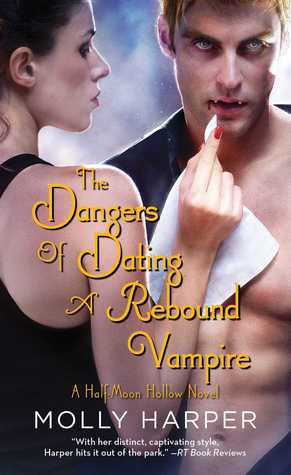 home from college for summer vacation, is joining the adult world of the gainfully employed with her new IT job at the local Vampire Headquarters. Aside from her terrifying, perpetually teenage-looking boss Ophelia, Gigi seems to fit in rather well with her fellow human coworkers. Knowing that neither her sister Iris, a newly turned vampire, nor her vampire brother-in-law Cal are pleased she's working so closely with unknown vampires, Gigi is out to prove herself worthy of the job.
"Focus on work," I told myself. "Just focus on doing a good job, and everything else will work itself out." It occurred to me that my new life philosophy matched that of the super-tense Michael Bolton character in Office Space.
Adding stress to Gigi's life is the gorgeous hunk of a vampire who flits in and out of her days and nights, one minute ready to kill her, and the next ready to seduce her. 'Mr. Probably Imaginary' could surely help Gigi push her ex-boyfriend Ben out of her mind for good. But with his whiplash-inducing personality changes, along with issues at her job, she's pretty sure her life will never be the same by the time summer ends.
"I do not know how to feel about being with a woman who can beat me up," he murmured into my hair.
"Well, stop going all Walking Dead on me, and you won't have to worry about it."
He frowned. "Would that make you the Daryl Dixon in this relationship?"
Gigi's antics in Half-Moon Hollow, Kentucky will make you giggle, cringe and most importantly, have you rooting for her to prove herself at work while landing the hot guy. Er, vampire.
'There was no such thing as Love at First Bite. Passion, sure. Lust, sure. Strong feelings of impending nakedness, OK. But not love.'
Molly Harper continues to be my go-to author when I want a story with a solid plot, lots of snark, romance, and a bit of mystery. And this book had all of that in spades. I might caution that to fully understand how Gigi and Nik met, and to read about their first epic kiss, you might want to check out the I'm Dreaming of an Undead Christmas novella first. Gigi turned out to be an extremely likeable and relatable character. I mean, who wasn't a bit daunted about their first job? I loved that she took her abundant computer skills along with her healthy self-image and rocked her IT job. Gigi's sister Iris and her brother-in-law Cal hovering like helicopter parents during her transition into adulthood were so funny and honestly seemed realistic, given her childhood.
The whole mystery behind Gigi's vampire admirer was pretty intriguing. Especially once we learned why Nik turned from lover to killer and back so fast. I thought he was charming and loved the way he doted on Gigi (when he wasn't going all zombie-like and trying to kill her). There is definitely something to be said for guys with manners and who show a lady courtesy. Half-Moon Hollow seems to have a few men who fit that description, come to think of it…Gabriel, Cal, even good old Zeb… My favorite moments between Nik and Gigi, though, were when they were simply acting like a new couple courting and when he called her sladkaya, or sweetheart. Totally swoon-worthy.
I couldn't be happier than when I'm in the land of possums and quirky characters. I can't wait for my next literary trip to Half-Moon Hollow and hope you'll follow along and enjoy the ride as well!
Book Info:

Publication: March 24th 2015 by Pocket Books | (Half-Moon Hollow #3)
In the next book in Molly Harper's beloved Half Moon Hollow paranormal romance series, Gigi starts her first job (at Vampire Headquarters), gets over her first love, and may even fall for her first vampire!
Gigi is no longer an innocent teen. All grown up and looking for love, her family and friends worry she'll go for the sexy, alluring vampire instead of a nice, safe human. But sexy and alluring, with a penchant for biting, could be just what Gigi wants…