In Valentine Vote by Susan Blexrud, Courtney Larson is a lobbyist for the Tobacco-Free campaign. After the death of her mother, this cause has becomes personal for her. She wants to make a difference and she believes that raising taxes on tobacco will make a difference on the consumption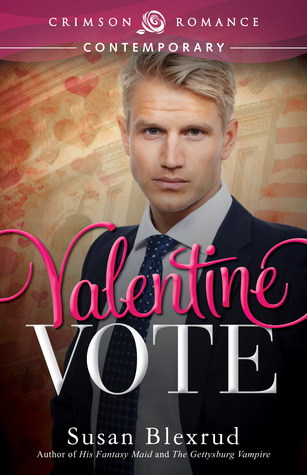 of it. But in order for the bill to pass she needs enough votes in the Senate.
Eric Morrison is a U.S. Senator from North Carolina, he comes from a family based in tobacco. He has dedicated himself to looking out for the well being of his people. Unfortunately for Courtney that means that he is against raising taxes on tobacco since that would impact not just his family but also many of the farms in his hometown. He understands her point, but if a minor wants to get himself a cigarette he will find a way regardless of the raised taxes she wants.
Courtney will not give up easily and will try her best to get as many of the senators as possible on her court to vote for the raise of taxes on tobacco. Only the fact that Eric Morrison is followed and admired by many would help her get the winning votes she needs. So she will continue seeing him to try and sway him her way. The chemistry and attraction they feel towards each other may be a little problem since they are on opposite sides, but maybe they can work things out.
Unfortunately for Courtney, Eric's priority is his people and voters, and that means that he will not do something that could affect them in a bad way. The only problem is that he is attracted to her and is falling for her, but how can he prove to her that he loves her without their opposing views?
All Eric can do is wait until the votes are counted and either the bill passes or not, and then see how he can convince her to give them a chance. While Courtney will have to figure out what's more important to her, the love she feels for Eric or the fact that his family's fortune is based in tobacco and that he will vote against something she wants.
If you want a light, fun and entertaining read, don't miss Valentine Vote by Susan Blexrud.
Book Info:

February 10th 2014 by Crimson Romance
Valentine Vote by Susan Blexrud
Courtney Larson is a lobbyist for the Campaign for Tobacco-Free Kids. Eric Morrison is a U.S. Senator from a North Carolina tobacco family. They're entrenched on opposing sides of a new tobacco tax, with the vote slated for Valentine's Day. As if that weren't enough to have them running in opposite directions, Courtney is a virgin who delights in sexual innuendos, and Eric has a framed riding crop in his office that Courtney thinks he uses for sexual pleasure. Their mutual misreading of each other's intents and desires makes for mixed signals politically and sexually. Can they find common ground on the Senate floor, and more importantly, in the bedroom?