Vanilla on Top by C.J. Ellison is a very hot and sexy read.
Heather Pierce has always been a wallflower, personally and professionally. She has been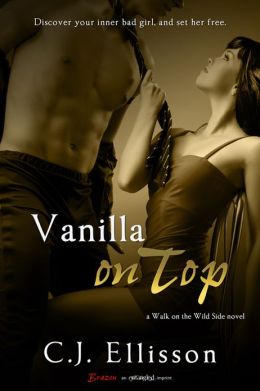 a doormat in every relationship she's had. She  has been doing her and her boss's work for the past few years without any benefits. Now she will take charge of any future relationships and she will aim to take her boss's job when he retires.
Tony Carmine is the top acquisitions officer for his company and a known international playboy. He is used to always being in charge and taking every advantage possible. But when he joins his friend at a speed dating event, he finds himself surprised by the woman sitting in front of him who decides to take charge and makes him put his phone away.
Heather didn't know that she had it in her to take charge, but once she starts how far will she be able to take it. Will everything just be about sex or will it be take a deeper route, to make matters worse Tony's company wants to buyout Heather's company. While their relationship is intense, it will take more faith and trust to survive the challenges ahead.
Rating:
Book Info: Publisher: Entangled Publishing (Brazen) (January 10, 2013)
Discover your inner bad girl, and set her free…
Heather Pierce is done being a wallflower, both personally and professionally. Desperate to live a different life for one night, she attends a speed dating event. Maybe here, anonymous unless she chooses otherwise, she can become someone new. When a man way out of her league sits across from her, Heather gathers her courage and takes charge of what she wants, secretly fearing he won't desire the real person she's desperate to hide.
Top acquisitions officer and international playboy Tony Carmine is about to close the biggest deal of his career. But then he meets Heather at a speed dating event…and discovers losing control may be exactly what he needs. Her blossoming sensuality occupies his every thought, consuming him with the need to possess the most intriguing lover he's ever encountered—until he walks into the boardroom and sees Heather on the other side of the negotiating table.