Playing the Part by Darcy Daniel is a sweet contemporary romance that will steal your heart.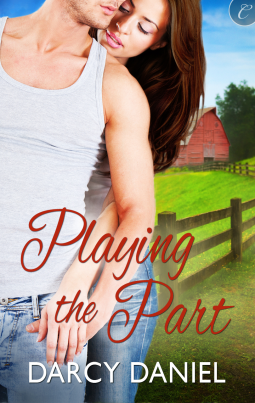 Anthea Cane is a famous and successful actress, at least she has been on her last few films. But everyone believes that she has no depth and lacks talent. Now with her late mother's favorite book becoming a movie, she will have a lot to prove that she is the perfect person for the role.
Cole Daniel is a blind farmer with no patience for divas, especially if that diva made his life hell when he was a child. So when Anthea shows up with a fake name and a true purpose, he finds himself unable to turn his back on a little revenge.
Being a farmer is not easy and that is something that Anthea will have to face.
She will have to face that life is not a part to be played as a spoiled character and 
that she will not always be taken advantage of by others just for being herself. She has always played a part both in film and real life, she has never been herself, but this time the only part she will be able to play is the one she has not done since she was a child, the real her that nobody knows.
But lies are never good, and her lie to Cole is not easy to keep as she starts to notice him as a man and starts to fall for him. And him trying to take a little innocent revenge on her while knowing her true identity will not be easily forgiven either.
Cole and Anthea will have some life lessons to learn and very true feelings to face before they can find that true love is always worth fighting for.
Rating:
Book Info: Anthea Cane is a successful actress – well, action star. Her films are mostly about how hot she looks silhouetted by fiery explosions. But Anthea is determined to prove she's more than just a body. With the role of a lifetime up for grabs – a serious adaptation of her favorite novel – Anthea sets off to her small hometown in the name of research.
Cole Daniel is a blind farmer with no patience for divas, especially one who mercilessly teased him as a young boy. When Anthea shows up using a fake name and pestering him into letting her stay, he can't pass up the opportunity to torment her just a little.
But Anthea won't let the stubborn farmer deter her from her goal, even if he is hotter than any man she's ever met. Cole finds his form of payback less than satisfying when Anthea keeps turning the tables on him, proving her mettle and gaining his respect. Will Anthea's research land her a man, as well as the part?