Vanishing Act by A.M. Madden: Landon is one the hottest actors in Hollywood and he can't wait to go on vacation. After working so much and recently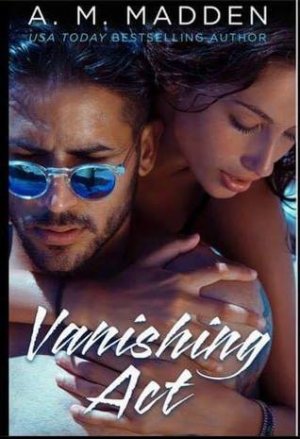 losing his twin brother, he needs time away from it all. The need to constantly be on guard and dealing with the paparazzi is weighing on him. He plans to just disappear for the next few months and figure out who he is anymore.
Zara loves living on a Hawaiian island. She loves to capture the stunning beauty all around her with her camera. Working as an assistant isn't her dream job, but she's trying to slowly assert her independence from her overly protective and paranoid father.
Once Landon arrives at his remote Hawaiian paradise, he's surprised to find a seemingly stray dog. They immediately bond and Landon is half hoping that no one claims the adorable Spike. Turns out Spike is Landon's new BFF, as Landon soon meets Spike's exotic and sexy owner, Zara. The attraction is immediate, but Zara is a little wary of the all too sexy visitor. Landon isn't above using Spike, aka Marshmallow, to further his cause and spend more time with Zara.
"Our dog. Possession is nine-tenths of the law." She stood at the door, refusing to come in. "If you're going to stay out there it'll be hard to get him. We can always draft up a visitation schedule for you."
"You aren't taking Marshmallow."
"Exactly. I'm adopting Spike."
Zara is so very different from all of the women that Landon's grown used to since he began acting. She doesn't know that he's a famous actor, she's so down to earth, and she doesn't immediately fall at his feet. They have an amazing chemistry and bond over their love of their respective families. Landon's time in Hawaii can only be temporary, but their feelings quickly grow much stronger than expected.
"Time to get my six-foot-three frame on a tiny board of death and pretend I'm not terrified I'll be a shark's lunch."
"If it makes you feel better, it would most likely just take a taste and spit you out when it realized you weren't a seal or dolphin."
Vanishing Act is a sexy, funny, opposites attract romance. A. M. Madden provided great dialogue and banter with a good balance of romance and conflict. Ms. Madden created an engaging cast of characters with the truly adorable Spike. Fans of Erika Kelly and Katie Graykowski will enjoy Vanishing Act.

Book Info:

Publication: June 20th 2017 | Loveswept |
In this captivating standalone romance from the USA Today bestselling author of Stone Walls, Hollywood's hottest actor meets his dream woman: a free spirit who has no idea who he is.
After personal heartbreak and professional setbacks, Landon Price is running on empty. If he doesn't take a break from the public eye soon, he'll risk becoming another cautionary tale in a town that's full of them. So in between film projects, Landon asks his agent to clear his schedule and then he simply . . . vanishes. Renting a discreet home on a remote Hawaiian beach for the summer, Landon begins to recharge. And in the process of finding himself, he meets a beautiful, feisty local who challenges everything he thinks he knows.
Zara Jobert has no interest in being a conquest for a cocky playboy from the mainland—even one with undeniable charisma and movie-star good looks. So she's pleasantly surprised when the handsome newcomer's persistent advances mellow into cozy banter and a sneakily seductive intimacy. When Landon reveals his true identity, Zara's hurt that he lied, but she doesn't care that he's famous. Unfortunately, not everyone feels the same way. And falling for Landon might come with a heartbreaking choice—between Zara's old life, and a new love.