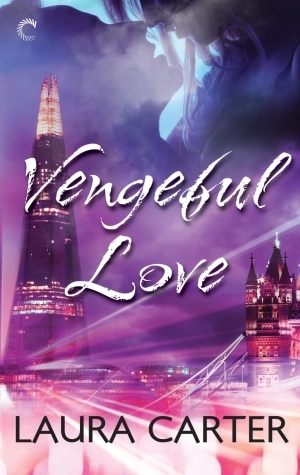 Vengeful Love by Laura Carter is sexy, exciting, and dangerous. Readers will be on the edge of their seat throughout most of the book. Hostile takeovers, murder, and romance turn this book into a must read.
"Through my silence, I submit to his demand."
Scarlett knows she needs to keep things on a business level with Gregory, but his demanding presence, along with his sex appeal and wicked lips, throw those thoughts out the window. She needs him just like he needs her, but they don't realize how much they need each other until it's almost too late.
"I'm not the kind of man who takes no for an answer. Especially not from you."
I don't normally love heroes who are billionaires, but I adored Gregory. This is one billionaire romance I can get behind. He's sexy, dominant and takes what he wants. He's also damaged but has a heart of gold and only wants to keep those he loves safe. Too bad, someone close to him is trying to take that away from him.
Gregory and Scarlett are so hot I'm surprised my e-reader didn't explode. Scarlett and Gregory are two characters that will captivate you, through their deep emotions and explosive chemistry. My eyes were glued to the pages until the very end. Speaking of the end, Gregory and Scarlett's story is not over, there is a second book that follows and I can't wait until that releases.
If you enjoy your romance sexy and wicked, definitely make sure you read Vengeful Love when you get the chance.
Book Info:

 March 21st 2016 | Carina Press | Vengeful Love #1
He's a devastatingly handsome, filthy-rich CEO. She's a high-flying London lawyer. All it takes is one boardroom pitch. One hostile takeover.
Vengeful Love is darkly suspenseful, sinfully sexy white-collar romance at its very best.
I've always walked the straight and narrow—following the rules, never straying from my chosen path.
Until Mr. Sexy Bazillionaire CEO Gregory Ryans walked into my life. It was only supposed to be business, but one brush of his wicked lips against my skin changed everything.
I can't deny what this man inspires in me. I'll do anything he asks…even help destroy the enemies from his past.
But he's hiding more than he's telling me.
When our love leads to tragedy, there's no going back. Gregory's past is trying to kill our future.
They say love can bring a person to their knees.
I've just proven that vengeful love is the strongest force of all.
Book One of Vengeful Love