Vieri's Convenient Vows by Andie Brock: Vieri's Convenient Vows by Andie Brock is a passionate romance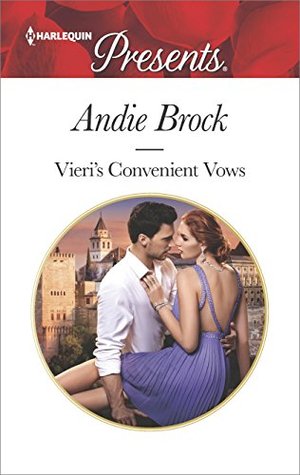 with two people who start out in a fake engagement but end up in a real loving marriage.
Vieri Romano has been waiting for his runaway thief of an employee to show up back in his nightclub, but when it's her sister Harper who appears instead, looking for her wayward sister, he can still make his plan come to fruition. That plan? To have the woman pretend to be his fiancee to appease his elderly dying godfather who wants him to find a partner, and soon. Since Leah took his money for the gig and took off, it falls to Harper to fill in for her missing sister.
Harper has spent her life taking care of others and feels obligated to fix this latest mess by her sister. Pretending to be Vieri's fiancee means being whisked off to beautiful Sicily and a gorgeous estate, wined and dined but trying to resist the handsome and charismatic Vieri. She finds she really likes Vieri's godfather Alfonso and doesn't mind playing the role if it will fill his last days with peace. But when their engagement leads to an actual wedding, will their pretense of feelings for each other become all too real?
I really enjoyed this sensual and passionate slow burn romance. We find out quickly that Harper's sister Leah didn't take Vieri's money with any malicious intent but Harper is still on the hook to pay off the money, or agree to be Vieri's fiancee in Leah's place. It's supposed to be an in name only engagement with no promise of bedroom activities but they are definitely attracted to each other and share some steamy kisses before the main event of their wedding night. At that point they both give in to the chemistry between them and they connect on a physical and emotional level.
There are complications of course, in the form of people from Vieri's past and family scandals that make Vieri hesitant to trust Harper, and his own feelings for her. They have a few rough patches to go through before they can get their happy ending, but it comes with a sweet and lovely epilogue too. I'm looking forward to reading Leah's story next!
Book Info:

Publication: Mar 20, 2018 | Harlequin Presents |
A deal sends them to the altar…
But desire leads them to the bedroom!
Harper has no choice but to honor her runaway sister's agreement—even though becoming the fake fiancée to formidable tycoon Vieri Romano sets her heart racing! After she's stolen away to his Sicilian castle, Harper is at the mercy of their mutual longing. But when consummating their vows has consequences, she must decide: Dare she trust Vieri with more than her body?