Sinner is my first time reading Sierra Simone but most definitely not my last! It's a provocative, scorching hot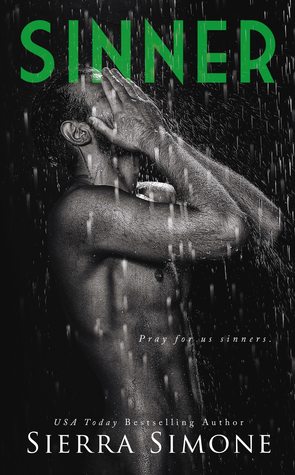 romance with an emotional and thought-proving storyline that will stay with you long after reading it.
Sean Bell, a jaded, cynical playboy, has a chance meeting with a beautiful woman, and he wants her fiercely, although she's much younger than him and obviously innocent. Soon afterwards, he's horrified to discover that the woman he wanted like no other is actually his good friend's little sister, Zenny, and she is about to become a nun! Everything about her is forbidden and, although he is a self-proclaimed sinner, he is determined to do the right thing and not corrupt her.
But Zenny has other plans. She asks Sean to seduce her, because she wants to experience desire and sex before committing herself fully to the church. He tries to resist her, but he can't. He's a man possessed, and he wants Zenny – no matter the cost. They tumble into a sensual world that quickly evolves into something much deeper than just a physical connection. Sean has feelings for Zenny, but he fears he can never compete with her love for God, especially considering he abandoned his faith years ago.
Sierra Simone deftly integrates observations about religion, faith and death into the storyline without overpowering the love story and succeeds in making Sinner a rich, layered and complex romance. You'll blush and sigh while reading it, and you'll also think.

Book Info:

Publication: 3/15/18 | Self-Published | Priest #2
I'm not a good man, and I've never pretended to be. I don't believe in goodness or God or any happy ending that isn't paid for in advance.
What do I believe in? Money. Sex. Macallan 18.
They have words for men like me—playboy. Womanizer. Skirt chaser.
My brother used to be a priest, and he only has one word for me.
Sinner.