In Virtuous (Quantum Trilogy #1) by M.S. Force, New elementary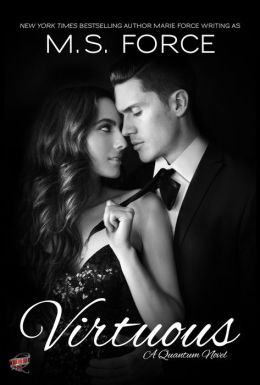 schoolteacher Natalie Bryant left behind her tragic past in Nebraska eight years ago and has since reinvented herself. She's been trying to overcome that trauma, day by day, in the hopes that eventually she will no longer be broken inside. She finds the man she hopes can make her whole again, when her beloved dog Fluff takes off like a shot and knocks Natalie into the path of movie star Flynn Godfrey. Their chemistry is undeniable. But why would a man who could have any woman in the world want a hot mess like her?
"Every time you touch me, you take me apart, piece by piece. And then you kiss me and put me back together."
"God, Natalie… You do the same thing to me. You said it so perfectly." He cups my face and kisses me again. "I'm falling so hard and so fast for you."
Flynn is more amused than angered when he realizes Natalie's octogenarian dog has bitten him. At least it gives him an excuse to try to spend time with the beautiful woman. Flynn can tell she's been through a lot in her young life, but that she's still a bit innocent and naive in matters of the heart. Even with his friends and coworkers telling him his Dominant ways won't fit with Natalie's relative inexperience, Flynn can't stay away. He's convinced that this is the woman he's been waiting for, but he knows he'll have a hell of a time convincing her to give them a chance.
I'm far more relieved than I should be to know I'll get to see her again. "I promise there'll be no mention of bedrooms."
"Or sofas or back seats or any other horizontal surfaces."
"You forgot walls, stairwells and shower stalls. I do some of my best work vertically."
Virtuous is book one in Marie Force's new erotic — yep, you heard me correctly — trilogy penned under the name M.S. Force. And it is utterly charming. Everything about this story completely charmed me through and through.
'She's a treasure, a priceless gift that came barreling into my life at a time when I'd all but given up on ever finding anyone who could soothe the disquiet in my soul.'
All of the wonderful things I admire in Marie Force's contemporary romance work is still more than apparent in her new venture into erotica: clearly defined characters, rock-solid plot, fun bantering and clever conversations, and lots of emotion. I have to say that I had a lot of fun getting to know Natalie and Flynn. From their meet-cute beginning to the cliffhanger ending, I fell for them both and latched on to how genuine and selfless they were.
There was a lot of substance to the storyline as we figured out what happened in Natalie's past and that Flynn was a natural Dominant. They were an unlikely pairing, that's for sure. But I thought Flynn and Natalie had such a sweet, tender relationship. I'll admit that I knew once they went public with their relationship, the media would likely dig into her past and it could be devastating to Natalie's fragile hold on her life. Basically, it had train wreck written all over it. So I spent part of the book waiting for that proverbial shoe to drop. However, I found she and Flynn had formed a strong enough connection to hopefully get through any backlash. We'll see how it goes with the next installment…
The secondary characters were also a lot of fun here. Natalie's roommate Leah was a vivacious, outspoken woman who kept after Natalie to really live her life and take some chances…especially on Flynn. (Thank goodness) We get to meet the rest of the Quantum crew as well as Flynn's family who were perfect additions to their trip to California. And who couldn't love Fluff? Natalie's twenty-pound senior canine, who in all her doggie splendor, was the reason she met Flynn in the first place. I loved the way Fluff's scenes were written, with the details of her expressions and, ahem, attitude coming across so vividly. 😉
If you're a fan of heated and intensely passionate erotic writing, I think you'll enjoy Virtuous, as well as getting the dual points of view from these two captivating characters.
Book Info:

Published April 14th 2015 by HTJB, Inc. | (Quantum Trilogy #1)
New York Times bestselling author Marie Force writing as M.S. Force…
He's a sexual dominant. She's sworn off sex. There's no way they can make a relationship work—or can they?
After surviving a traumatic event at age fifteen and the ensuing estrangement from her family, Natalie Bryant has worked for years to reinvent herself into the woman she is today—a happy teacher fresh out of college and enjoying her first winter in New York City with her faithful dog, Fluff, by her side. Natalie isn't expecting her life to change completely during a routine stroll through Greenwich Village on a blustery January day. But when Fluff breaks loose and charges into a park, Natalie gives chase and crashes into her destiny. Only after Fluff bites and draws blood from the man who accidentally knocked Natalie down does she realize Fluff has bitten the biggest movie star in the world.
He has no business being enthralled by the gorgeous, young, innocent teacher…
Natalie captivates Flynn Godfrey from the first moment their eyes meet while she is lying on the ground and he's fighting off her ferocious little beast of a dog. The only thing Flynn knows for certain is if he lets Natalie get away, he'll regret it for the rest of his life. After only a short time in her presence, Flynn is prepared to change who he is to be what she needs. He knows he's in big trouble when she says she won't sleep with him and he doesn't care if it means he gets to keep her in his life. But can he turn his back on the lifestyle that has defined him? Can he deny the desires that drive him to give Natalie the introduction to love and romance she so deserves? And most of all, can he keep his truth hidden from her long enough to have forever with her?
Join Flynn and Natalie as their story unfolds in three full-length books released three weeks in a row: VIRTUOUS, VALOROUS and VICTORIOUS. From New York to Los Angeles, from Hollywood to Las Vegas, Flynn and Natalie's whirlwind love affair has it all—romance, passion, steamy hot sex, relentless paparazzi and a murder that could be their undoing.
If you hate dirty-talking heroes who put it all on the line for the women they love, who leave no desire unfulfilled, who will do anything it takes to protect what's theirs…If elements of BDSM make you queasy, if smoking hot sex isn't your thing, if cliffhangers make you rage, if you hate first-person points of view from the heroine AND the hero… this trilogy is NOT for you! You've been warned…