In Wait for You by J. Lynn, Avery Morgansten is a college freshman, ready to start her life over in a new state, with new friends. She's going to put her past behind her and forget about the event that changed her in so many ways. Day one of classes starts off with a bang when she runs headlong into Cameron Hamilton. All six foot three inches of him. Avery knows she's out of practice flirting with handsome guys, but Cam teases and banters with ease, so with every encounter she finds him more intriguing.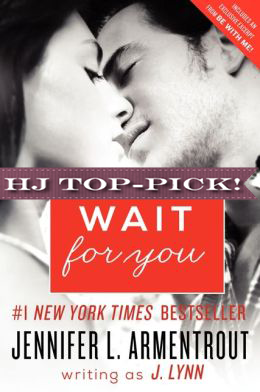 Paired together on Astrology assignments, they realize they have a lot in common and soon they become good friends, hanging out together every chance they get. Cam of course is hoping to talk Avery into a date, but she isn't completely comfortable with the idea. When emails and texts begin to threaten her, she realizes her past is coming back to haunt her and if she doesn't deal with it soon, Cam may find out what happened to her five years ago. She doesn't want to ruin the fragile bond they've built so far but she knows in order to move forward in their relationship, she's going to have to relive the most terrifying event she's ever been through.
"I'm not going out with you, Cam."
"I didn't ask you at this moment, now did I?" One side of his lips curved up. "But you will eventually."
My eyes narrowed. "You're delusional."
"I'm determined."
"More like annoying."
"Most would say amazing."
I rolled my eyes. "Only in your head."
Avery was a really interesting character who I found easy to relate to and who grew quite a bit over the course of the story. What happened to her in high school completely changed her, and her personality, for that matter. She did what she had to do to move forward but never really had any support or counseling to deal with the lasting effects. Meeting Cam was the best thing to happen to her in her young life. He helped her come out of her shell and experience life again instead of hiding. And Cam…wow. He was like a knight in shining armor, always there to lend a hand or provide some witty banter to lift her spirits. Cam liked to say he was only good when he was around Avery, but he was a truly wonderful guy. Every young woman deserves to have such an incredible and attentive first love!
'My body knew what to do, what it wanted, even though my brain was firing off so many warnings I felt like Homeland Security during a Code Red.'
J. Lynn has written a shining example of how a New Adult story should be told. I seriously couldn't put this book down and I absolutely fell in love with all of the characters. Especially Cam. And Avery. And Jacob. Okay…so I fell in love with everyone! She did a great job pulling the reader in to really understand Avery's feelings in every situation and where she was coming from. The pace of the story was perfect. It wasn't too wordy or lacking in details and the set up for each scene was on point. The dialogue between all of the characters was fantastic–switching gears from teasing and/or flirting, to heart wrenching discussions in the blink of an eye. And it worked. There was a bit of angst involved as it was about young love, but it wasn't so much that you want to rip your hair out and yell at the characters to make up their minds. 😉
'Everything was okay. Maybe not perfect, but life wasn't meant to be perfect. It was messy and sometimes it was a disaster, but there was beauty in the messiness and there could be peace in the disaster.'
I really hope you get a chance to read Wait for You. From the charming cast of characters to the intelligent dialogue and that wonderful feeling of new love, I can't recommend it highly enough.
Book Info:

Published September 3rd 2013 by William Morrow Paperbacks  | Series: Wait for You #1
# 1 New York Times and USA Today Bestselling phenomenon.
Some things are worth waiting for…
Traveling thousands of miles from home to enter college is the only way nineteen-year-old Avery Morgansten can escape what happened at the Halloween party five years ago–an event that forever changed her life. All she needs to do is make it to her classes on time, make sure the bracelet on her left wrist stays in place, not draw any attention to herself, and maybe–please God–make a few friends, because surely that would be a nice change of pace. The one thing she didn't need and never planned on was capturing the attention of the one guy who could shatter the precarious future she's building for herself.
Some things are worth experiencing…
Cameron Hamilton is six feet and three inches of swoon-worthy hotness, complete with a pair of striking blue eyes and a remarkable ability to make her want things she believed were irrevocably stolen from her. She knows she needs to stay away from him, but Cam is freaking everywhere, with his charm, his witty banter, and that damn dimple that's just so… so lickable. Getting involved with him is dangerous, but when ignoring the simmering tension that sparks whenever they are around each other becomes impossible, he brings out a side of her she never knew existed.
Some things should never be kept quiet…
But when Avery starts receiving threatening emails and phone calls forcing her to face a past she wants silenced, she's has no other choice but to acknowledge that someone is refusing to allow her to let go of that night when everything changed. When the devastating truth comes out, will she resurface this time with one less scar? And can Cam be there to help her or will he be dragged down with her?
And some things are worth fighting for..