Lying in Your Arms by Leslie Kelly: The hottest, sexiest and most talented film actor in Tinseltown, Tommy Shane, grew up with twins, Madison and Candace Reid. To this day they are very close and will do anything to help each other out. So, Tommy and Madison fake an engagement, wedding plans, and long-term breakup strategy, in order to keep the paparazzi away and finding out about his true sexuality. After six months of living a lie, Tommy is tired wants an honest relationship with his partner Simon. How can they end their farce and preserve their stellar reputations in the process?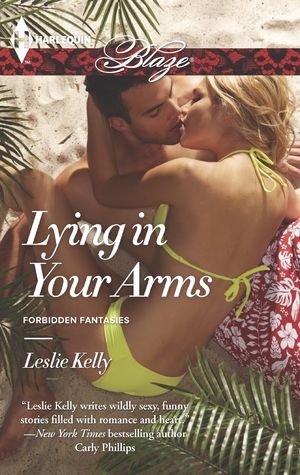 The break-up does not go according to plan. When the public and the paparazzi find out that Madison cheated on Tommy, they go ballistic. Madison is hunted twenty-four hours a day and her life is no longer her own. Madison is a journalist and her dream of being a screenwriter is most likely over. She is a bundle of nerves, so Tommy sends her to a private resort in Costa Rica for a much needed week of rest, relaxation and hopefully a little bit of romance. Madison certainly needs her sexual itch to be scratched. Hopefully the hoopla will dissipate by the time she returns to her parents home in Florida.
Six months ago, handsome Chicago firefighter Leo Santori was getting married, that is until he found out his finance was cheating on him with his best friend. So now a half a year later, he is in Costa Rica on his prepaid, non-refundable honeymoon. Leo is looking for a little fun, in addition to some rest.
When Madison and Leo meet, there is an instant attraction. In fact, their first meeting finds Leo naked and when they meet for the second time, Madison is nude. What a way for two gorgeous, lonely people to get together. Both have been celibate for months, so their first kiss is amazing and their first time together is mind-blowing. Being in the tropics only enhances the romance and eroticism.
Their fling turns into something more. While Leo tells Madison about his past, Madison dances around it, not wanting to mix Leo up in her life and ruin his reputation. After a week of hot sex, romance and love, they leave on bad terms at the airport after the paparazzi discovers Madison and her privacy is blown. Maybe a future is possible?
I liked this story. There are a few twists and turns at the end of the book that kept me engaged. Unfortunately, I was never able to warm up to Leo's character because I found him to be slightly conceited and egotistical. The sex scenes were hot, but sometimes I did not feel the emotion between the two characters. I liked Ms. Kelly's easy writing style and voice.
Book Info:

Expected publication: September 17th 2013 by Harlequin
Only a firefighter can handle this blaze…
Madison Reid's engagement is a sham. Her movie-star fiancé is actually her childhood friend…who's gay. When he decides he can't keep living a lie, Madison ends things by leaking a salacious story about a hot—if fictional—affair. Now surrounded by swarms of news-hungry paparazzi, Madison escapes to the beauty of Costa Rica until things cool down….
Firefighter Leo Santori is on his honeymoon. Alone. Still torn up about losing his fiancée to another guy, Leo isn't expecting anything from Costa Rica. That is, until Madison steps into his world, rocks it and then lights it on fire. The heat between them is undeniable—and irresistible. But when Madison's scandalous past catches up with them, will it extinguish the flames…or will they both end up burned?