Waking Up Married by Reese Ryan is a sexy friends to lovers romance and the fifth story in the author's Bourbon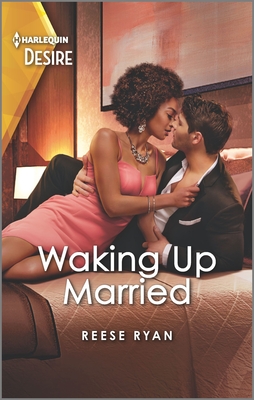 Brothers series set in small town Tennessee.
Zora Abbott and Dallas Hamilton have been best friends since they were kids and have always found time to spend together no matter what other relationships they might have been involved in. Both currently single, when Dallas, an innovative furniture maker is being honored with an award in Las Vegas, he wants his BFF by his side. Zora, sales VP at her family owned distillery, wouldn't miss the opportunity to celebrate her friend's success. With a luxury suite at the hotel, sharing is a no brainer. But ever since a kiss under the mistletoe a few years earlier, Dallas had started thinking more than friendly thoughts about Zora, a fact to which she seemed oblivious.
But two unexpected things happen on their trip. First, Zora confesses her desire to have a baby to Dallas, having gotten very maternal feelings since the birth of her niece and nephews. And secondly, after a night of drinking (and some other 'goodies'), they wake up to discover they are in the same bed, and married! Neither remembers the event but a posting Zora had made on social media means everyone knows about it, including their very startled families. Not wanting to admit their mistake, they decide to play it off as if they meant to get married, though between themselves they plan to only let it go on for a year before splitting up. But what if fate was just giving them a helping hand?
I have been really enjoying this series and was eager for Zora's story! Having four older brothers means she's always had to be strong and fight for herself and knowing she'll have Dallas's support with her decision to become a single mom is important to her. But now that they're married, and she and Dallas realize their mutual attraction, the idea of having a baby with Dallas, something he's excited to participate in (whether they stay married or not), takes hold.
Becoming lovers is an easy decision, and they share some steamy scenes. As best friends they already know a lot about each other and understand each other. Dealing with their families who are surprised but mostly thrilled by their news (at least the moms, though disappointed at not being invited) is a major focus of the story as they all adjust to the new circumstances. Zora doesn't want her brothers and father to think poorly of her hasty marriage and think she isn't up to her work responsibilities.
But Zora also doesn't want their marriage and her plans for a baby to affect Dallas's work opportunities. He has a chance to partner with a furniture company in Iceland and she doesn't want him to sacrifice his future for hers. But marriage is about compromise and with the deep affection they feel for each other that has turned into love, they find a way to get their happy ending. There's a sweet epilogue to wrap things up nicely. I've enjoyed all the stories in the series and look forward to more from this author!

Book Info:

Publication: Mar 01, 2021 | Harlequin Desire | The Bourbon Brothers #5
What's wrong with a little fake marriage between friends?
Their night on the town is a blank, but when Zora Abbott and Dallas Hamilton awaken in a Vegas hotel room, they're man and wife. With news of the nuptials spreading virally, the high-profile best friends decide to stay married, temporarily. Maybe under the cover of marriage, Dallas can even make his best friend's baby dream come true. But can their friendship survive their newly unleashed passions?