Waking Up Pregnant by Mira Lyn Kelly: Darcy knows what her life's about. She can count on herself and herself only. She's done with her GED and ready to move on from Vegas to greener pastures. She absolutely has no time to break her rule and get attached to one of the customers on her last night as a cocktail waitress. She cultivated this 'touch-me-not' persona, and it was working – at least until he managed to see her laughing with a friend. Darcy knew he saw through the mask, and he'd honed in on her.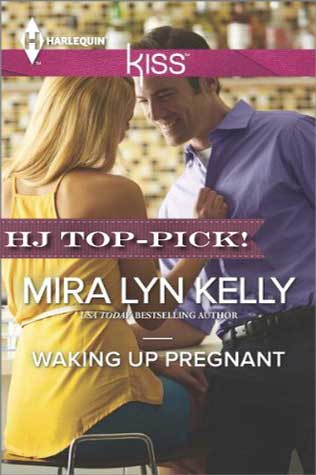 Jeff had noticed his waitress alright. He'd seen her blow off all the other guys in the place. They were all totally clueless, but he could somehow catch a glint of the facade she put up to keep them off the scent. None of them had a chance. But when he saw her laugh, that was it. All bets were off. He had to get her to laugh like that again – for him.
Darcy agreed to go out with Jeff after her last shift, but not back to his room. This was NOT something she would normally do, but she couldn't help herself. She liked the guy. Ziplining, Riding Roller Coasters, eating at her favorite taco shack, it was a night she'd never forget. And when they locked eyes, she knew she couldn't just let it end like that.
'Jeff was like a desert mirage. The kind of fantasy that could drive a woman to lose herself in the futile hope of finding shelter within a cool oasis that was never really within her grasp in the first place.'
The sparks weren't the only things flying back at Jeff's hotel room – and it wasn't just about the sex. There was a connection, and they both felt it. But that all changed when he left to dispose of the what he found out to be was a faulty condom. He left her alone just long enough for her to decide to get while the going was good, and he didn't have the chance to discuss it with her…
That is, until she shows up at his office three months later. Vomiting into your baby-daddy's trashcan as a re-introduction isn't the best second impression, but it's the only one Jeff was gonna get. Darcy already knows how things are going to go down, is Jeff going to let her get her way? Darcy just might find out just how crafty Jeff and his ego can be.
'He didn't want to think about what she'd looked like when it was heat filling her eyes. Desire. Need.
Not when she was standing within the circle of his arms as he told her everything was going to be fine. When she needed reassurance. Not the muscle memory of some residual attraction she wouldn't be able to ignore springing to life between them.'
I absolutely LOVE when I can just jump right into a story from page one – and this book is the perfect example. After the initial present-day setup, we get swept back to the night in Vegas, and then back to the present, artfully done and amazingly sweet & hot.
I loved that we got to see Connor (and hear Megan obliquely) from Waking up Married, because that book was what started my personal love affair with the KISS line, and it brought back some very fond memories.
Jeff is the prince we're all looking for, Darcy is the woman we all want to be, and the side characters are the people we want in our lives. Snappy dialogue, super hot sex, tension you can cut with a cake knife, and best of all, the main characters really *enjoy* being around each other. They may not have any idea how to figure out themselves once they're thrown into an unknown situation, but hey, nobody's perfect.
Love, love, love, love this book. Do yourself a favor and read it now. 🙂
Book Info:

Published March 1st 2014 by Harlequin KISS
The night that changed everything!
Waitress Darcy Penn is the smart, sensible type—flirting with the extremely cute guy in the bar just isn't her usual style. As for ending up in his hotel room? Definitely not! Sneaking out while he's in the bathroom to avoid the post-sex awkwardness? Much more like it….
If Darcy had stuck around, Jeff Norton could have told her about their "epic latex fail." So he shouldn't be quite so shocked when months later, Darcy turns up at his classy L.A. office and throws up in his wastepaper basket. She's got a bad case of morning sickness, and she's here to find out what he's going to do about it!