Wanted: Billionaire's Wife by Susannah Erwin: Marry or you lose the biggest contract your company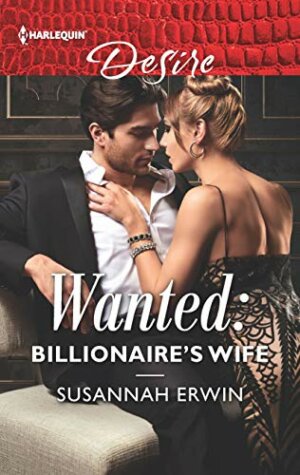 could ever imagine and you will be ruined.
Danica Novak thought she was imagining things when Luke Dallas told her his story. Now she was contracted to find him a wife and fast. It didn't matter that she believed in love and he seemed to think that the perfect marriage could be arranged on paper. Luke on the other hand didn't care how it was done as long as it was done. He needed to be married; he needed this deal to be done. He had seen "love" multiple times with his parents multiple marriages and he knew that didn't work, so why not hire a recruiter? It was a logical step since whoever he "hired" for a "wife" needed to know this was a job after all.
I think this might be my first ever Erwin novel, but I can honestly say it will not be my last. It is fast paced, well developed, fully flushed out without being overly wordy and overall a great plot line.
Ms. Erwin takes her readers into another world that while realistic is one few understand or get to live in and while it's not quite a Cinderella story there are some elements that are perfect in their fairytaleness. This is a novel I recommend running out to get and then taking some time to true indulge and enjoy reading.
Book Info:

Publication: May 7th 2019 | Harlequin Desire |
He hired a recruiter to match him with a wife.
But the woman he wants is off-limits.
CEO Luke Dallas will save his business deal—even if that means marriage! And he hires executive recruiter Danica Novak to be his unconventional matchmaker. The only problem? Beautiful, captivating Danica is distracting him from his goal. He knows they have chemistry, but Danica won't settle for anything less than love. Will that be the deal breaker?