Wed for His Secret Heir by Chantelle Shaw: Wed for His Secret Heir by Chantelle Shaw is a sensual and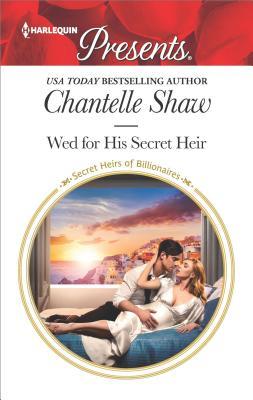 passionate romance about a one night stand that ends up becoming a marriage of convenience, and ultimately love.
When Ava Sheridan switches place settings at a charity fundraising dinner so that she can be seated next to Giannis Gekas her ulterior motive is desperation. Her brother Sam has fallen in with a bad crowd and will be going to court on vandalism charges for damage done to one of Giannis's yachts. She definitely doesn't plan to sleep with the man before stating her case! But Giannis is an expert at seduction and Ava is no match for his charm.
When she tells him the truth the next day, Giannis is angry but comes up with a deal she can't refuse. He wants to buy a shipping company but the owner disapproves of his playboy lifestyle. In exchange for pretending to be his fiancee to prove he's settling down, he'll drop the charges against her brother. Ava agrees and finds herself in a new world of luxury and media attention. Both of them have secrets that could destroy what's turning out to be a much more complicated emotional and physical relationship than they had imagined. Can they find their way to a real happy ever after?
I really enjoyed this story! Ava's a loyal sister and having grown up with a con man for a father, she's desperate to keep her brother out of the same lifestyle. He's made some mistakes but he's not a bad kid, and convincing Giannis to show him some mercy is worth pretending to be engaged to him. Their chemistry is impossible to resist right from the first moment they meet and they share several sensual love scenes. When Ava ends up pregnant it takes their fake engagement to a real marriage – for the sake of the baby. But what they both secretly want is something more.
Giannis too has had a serious brush with the law in the past, ending up in prison for a year. If anyone knows what it's like to be young and scared, it's him. He knows he's doing the right thing by Ava's brother but isn't above admitting that he's got an ulterior motive to keep Ava with him. He doesn't want to confess his sins to her either, so both of them are guilty of keeping things from each other. It gets worse when there are complications and lack of trust to push them apart. Fortunately, though there is some serious drama in the second half, they are able to find their way to a stronger and loving relationship with a happy ending. I definitely recommend this to readers who love marriage of convenience and unexpected pregnancy romances!
Book Info:

Publication: July 17, 2018 | Harlequin Presents | Secret Heirs of Billionaires
From one-night mistress… To pregnant bride!
With a new acquisition at stake, Giannis Gekas must shake his playboy reputation. Enlisting beautiful Ava Sheridan to pose as his fianc'e should be the key. Yet behind closed doors, their attraction is anything but fake! But Giannis is furious when he learns Ava is keeping the consequences of their passion a secret. Now to legitimize his child, Giannis has only one option–make Ava his wife!